From academy hockey to Australia's rep team
Written on the 27 October 2014 by SWSAS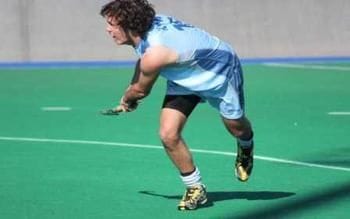 Former South West Sydney Academy of Sport representative Jacob Andaloro has done our region proud, whilst representing NSW in the men's opens country team, which recently competed in the Australian National Country Championships, held in Toowoomba.
The NSW team had a very successful tournament winning the round games against South Australia 8-0, Victoria 5-1, Western Australia 5-1, Australian Defence Force (ADF) 4-1 and came up with a 3-3 draw against Queensland.
The semi-finals saw Jacob and the NSW team take on ADF, winning 2-0, which meant only Queensland, stood in the way of the NSW team coming out victorious. The final came down to the wire and saw both teams battle it out with NSW coming away victorious 2-1 and taking home the gold.
To cap of a great win Jacob was also selected in the U21 Australian men's country team to compete in the FIH Oceania Cup, in Suva Fiji this December. The Australian team will be defending the gold medal it won at the last Oceania Cup held in 2012, where Jacob was also a part of the team.
The South West Sydney Academy of Sport, hockey program continues to provide high performance training opportunities for talented young athletes in the south west Sydney region.
The Academy program is provided in partnership with Hockey NSW and provides high quality development opportunities for athletes in the areas of technical skill, sports education and personal development; preparing athletes for their next level of elite sport representation.
To be eligible for this year's Academy hockey program, athletes must be aged between 16 and 18 and committed to progressing to higher representation within the sport of Hockey. Players must play, go to school or reside within the local government areas of Campbelltown, Camden, Liverpool and Wollondilly.
Athletes will also have the opportunity to be selected to compete in the ClubsNSW Academy Games.
For any young hockey player interested in becoming a part of the Academy's hockey program, applications are now open on the Academy website www.swsas.org.au or contact the Academy directly on 4627 7622.