From Camden to Beijing, Academy athlete takes on the World
Written on the 7 July 2015 by SWSAS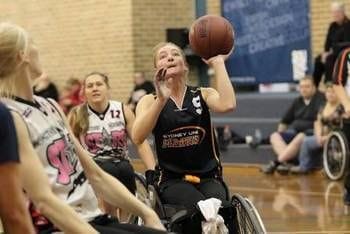 THE South West Sydney Academy of Sport has yet another athlete step onto the World stage, this month.
Menangle's very own Jess Cronje has been selected to represent Australia at the Under 25's Wheelchair Basketball World Championships held in China from 29 June to 7 July.
With only three returning athletes, the squad is full of young 'up and comers' including Jess who is just 17 years of age. With Jess being selected into the squad so young it is undeniable that her future in the Australian team is looking bright.
Head Coach David Gould, who also represented Australia in Wheelchair Basketball, brings with him an extensive coaching knowledge of the game, and will have the ability to continually challenge Jess and her team mates.
Jess was one of five New South Wales athletes to be selected, with four athletes coming from Western Australia and one from Queensland.
She has been playing with the Sydney University 'Flames' Wheelchair Basketball team, which also saw two of Jess's team mates also selected into the Australian Squad.
Jess' has been doing a lot of individual and training placement work whilst at the Academy, including Para Sports (Paralympic) and Basketball NSW, which has given her to opportunity to train under some of the best wheelchair basketball coaches in Australia.
Last year Jess was awarded the Academy's 'Lone Star AWD' award for her outstanding efforts in 2014 and will be a hot contender for the Academy's '2015 Athlete of the Year' award, to be presented on 31 July, at the Campbelltown Catholic Club's 'The CUBE' Convention and Entertainment Centre,
Academy executive director Gerry Knights, stated that Academy is extremely proud of Jess and that she has been one of the most professional and hard-working trainers in the Academy over past years; and that the Academy wishes her all the best for the Under 25's Wheelchair Basketball World Championships, in Beijing.