Future is bright for young Softballer
Written on the 3 September 2015 by SWSAS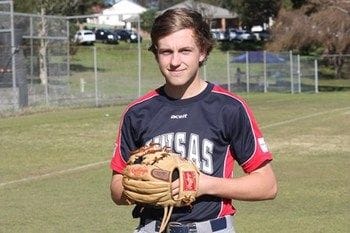 THE South West Sydney Academy of Sport, Softball squad is full of exceptional talent but one athlete in particular is currently making his 'mark', his name is Blake Jackson.
At just 16 years of age Blake recently gained selection into the Under 19 Australian Men's Softball Team. The team had been invited to participate in the 2015 International Friendship Series held in June and July this year. NSW Selectors were pleased with Blake's inclusion and pleasantly surprised when 13 NSW athletes were selected out of 29 players named in the two Australian squads.
With just 3 years playing experience, Blake has improved tremendously. His efforts in the 2014/2015 SWSAS Softball squad were rewarded by receiving a nomination for the Academy's 2015 Chairpersons Award, at its recent SWSAS Graduation Dinner.
The Academy's male and female softball squads recently returned from competing at the annual NIB Games, held as part of the Hunter Festival of Sport in Newcastle.
The male squad went through the tournament undefeated which was a fantastic effort for the team and each individual player. The female squad also put up a fantastic effort placing a very credible fourth in the tournament.
Blake has the whole world in front of him and his ultimate current aim is to represent Australia at the 2016 Softball World Championships in Michigan, USA.
With Blake just completing his second year with the Academy, the benefits of the program are evident in his playing technique. "I've learnt some amazing new skills along with improving my existing skills" said Jackson. "I have noticed my batting technique has also greatly improved", he said.
Nominations are now open for athletes wishing to be considered for an Academy Softball Scholarship, for the 2015/2016 season. Nominations are available to all Softball athletes who either live, play or go to school in the Camden, Wollondilly, Campbelltown or Liverpool local government areas.