Gold rush: six from six for Harrington Park speedster
Written on the 14 January 2019 by South West Voice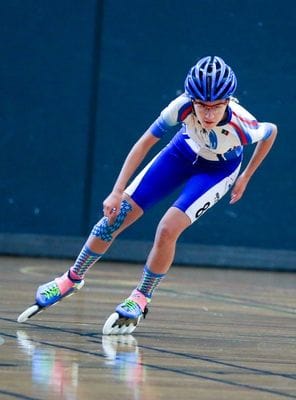 Jaide Gayle-Weiling blew the opposition off the track at the NSW Speed Skating Championships.
The Macarthur ace skated her way to six gold medals from as many events.
The 17 year old from Harrington Park is a South West Sydney Academy of Sport Future Stars program athlete.
This is a program supported by Wests League Campbelltown and specifically designed to develop athletes and para-athletes across a wide range of individual sports.
Gayle-Weiling's achievement at the NSW Speed Skating Championships was remarkable as the event distances ranged from a short 200m time trial to a 10,000m endurance event and everything in between.
They included a one lap sprint 400m, and middle-distance events including the 1000m, 3000m and 5000m.
Gayle-Weiling is now training to represent NSW at the National Championships in Queensland in January.
There she will race against other top inline skaters from each state competing for Australian selection.
"I am really hoping to secure a spot in the Australian team to compete in the Oceania Championship next year,'' says Gayle-Weiling.
"I have trained hard and am ready to go."
The ever-optimistic skater just missed out on the opportunity to represent Australia last year at the World Championships.
But with the support of her coach, family and the Academy she has not let this set back diminish her enthusiasm.
The plucky skater has also started training on ice, to assist her development of inline skating and is hoping to take part in ice speed skating competitions in the New Year.
Gayle-Weiling has been working hard all year and her consistent routine has paid off with incredible State Championship results.
The Academy's Sports Program Manager James Watson said she was a "determined, diligent and motivated athlete''.
The South West Sydney Academy of Sport supports not only team sports but individual athletes within the Camden, Campbelltown, Liverpool and Wollondilly regions.
If you would like more information about how to become an academy athlete, contact the academy's Executive Director, Gerry Knights on 0407 415 847, 4627 7622 or email gerry.knights@swsas.org.au