Golf Day a Hole in One Success
Written on the 12 September 2022 by SWSAS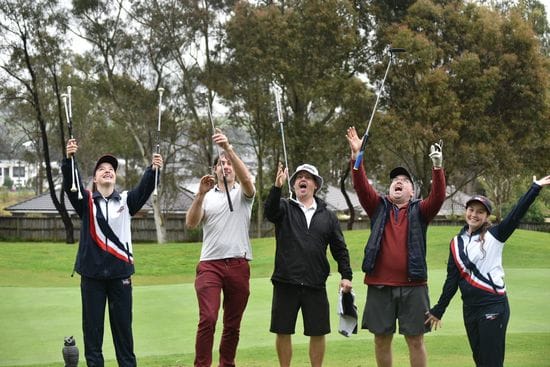 In true Academy form, a current world pandemic and the day's wet weather conditions could not stop the South West Sydney Academy of Sport Golf Day, from going ahead this time.
Mother Nature did not have any special consideration for the Academy. And as our golfing 'weather warriors' on course, were getting into the swing of 'life and death' competition, she teased them with a bit of 'wet and dry', on the first nine holes, then congratulated all players for their tenacity on the back nine by providing some, 'be it ever so slight' sunny weather, in time for their final run back to the clubhouse for lunch.
There was plenty of entertainment provided by our Wests Future Star athlete Renae Edmonds and fellow baton twirler Chloe Ryan, who was in Sydney over the weekend to compete alongside Edmonds, represented Evolve Twirling at the NSW State Championships. Both athletes relishing the opportunity to demonstrate their fantastic and somewhat unique skills throughout the day, including teaching the competing golf teams some new club tricks.
And it was the Wests connection of the Wests League Club Campbelltown and Wests Tigers team of Martin Bullock, Warren McDonnell, Shannan Gallant, and John Skandalis that showed the greatest resilience in the conditions, taking home the 'overall' winners trophies on the day, by 0.3 of a point ahead of the Wollondilly Shire Council team.
"It was great to see good friends out on the course such as Club Menangle, Kids of Macarthur Foundation, and the Campbelltown Golf Club 'Old Boys'; all of whom are regular attendees at our Golf Day" said CEO Gerry Knights.
They were joined by newcomers RBI Australia, and Sharp Extensive I.T, who donated a 65" UHD TV to the raffle, won by ATC Insurance Solution's Steven Duong, representing the Irecon Insurance Services team.
Academy Platinum Partner's South32 had high representation on the day with two teams competing in the event, creating an intra-company rivalry, which reached fever pitch on the 14th hole, with Dane Vogel taking the honours with the 'Nearest the Pin' trophy.
Local media identity Eric Kontos took up the leadership challenge of keeping his South West Voice representative team, well focused, to just finish in front of 'The 8 Campbelltown' in the run to the finish line.
The Academy was also able to host a hotly contested Finance and Insurance Industry challenge, with Kelly + Partners taking the win over Irecon Insurance Services.
Whilst The MAC Credit Union showed great consistency to take out the less coveted, 'Try Another Sport' award. Which this year, included four AFL balls, ironically emblazoned with the Academy's 'The Mac' AFL Program logo!
Thank you to Golf Day major partners in Jem Promotion Products and SVSR Mini Crane Hire, and all of our Golf Day hole sponsors, competing teams, and Academy partners for your continued support, in the development of athletes in the South West Sydney region.
---