Hockey Elite Honoured at NSW Awards
Written on the 3 March 2016 by SWSAS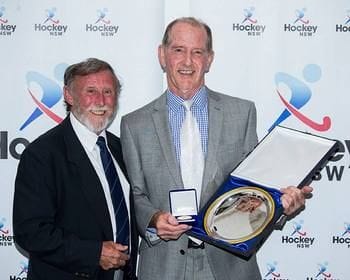 A lifetime of dedication to the sport of hockey, by appropriately nicknamed local 'legend' Gerry Knights, was well and truly recognised at the recent NSW Hockey awards night.
It was a night of glamour, and the presentation of NSW Hockey's highest awards, but it was the Macarthur region that took centre stage.
Although there to accept his 'men's masters lifetime contribution to hockey' award; Knights took the opportunity to passionately expound the local successes of the sport, to some of the best of World Hockey.
Knights praised all associated with hockey in Macarthur. He recognised the value of local volunteers and coaches and the successes of our region's junior boys' and girls' representative teams.
Knights was highly-praised by Hockey's elite for being only fourth person to receive the 'life time contribution' award, with many commenting on his passion for the Macarthur region.
With only the 'cream of the crop' awards to be presented on the night, Macarthur dominated the field. South West Sydney Academy of Sport past athletes led the way, with Nathanael Stewart winning the junior male indoor player of the year and current Hockeyroo Kellie White being recognised as the NSW female athlete of the year.
Macarthur's Kylie Seymour was also justifiably recognised as the NSW senior female umpire of the year, following her selection as an umpire for the 2016 Olympic Games in Rio de Janeiro.
Knights said the receipt of these 4 awards and the awarding of the championship junior girls award to the local Metro South West Sydney association, was amazing; and he expects more top awards to come to Macarthur as the local quality and growth of the sport gets stronger each year.