Hockey's 'Quiet Achiever' Returns for Another Season
Written on the 13 October 2017 by SWSAS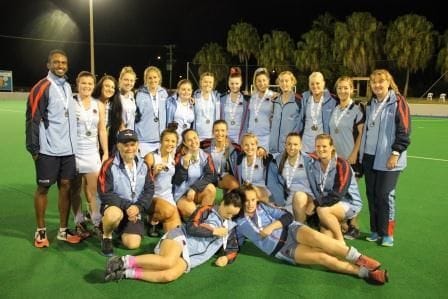 The South West Sydney Academy of Sport (SWSAS) hockey program has always had the very best of coaches and its current head coach Wayne Southwell is the 2017 Hockey NSW 'Coach of the Year'.
High performance coaching and athletic ambition come together to create a 'smooth' transitional program with the assistance of program stalwart Leanne Andaloro, the programs dedicated long-serving manager. SWSAS staff members are an incredible asset to the development of local hockey and many champion players have emerged under their guidance.
Andaloro definitely has hockey running through her veins after joining the Academy program as its squad manager in 2010. At that time her eldest son Jacob was an outstanding junior representative player and in the SWSAS program. Since then, her other two children; Benjamin and Vanessa have graduated from the Academy program to continue their own personal success. Fortunately for the hockey program, Andaloro has remained.
Andaloro has toured Hong Kong, Vietnam and Fiji with various national under 21 and open aged teams and recently returned from Townsville where she look after the affairs of the NSW Country Women's 'Open Age' hockey team. This was another successful tour for Andaloro with the NSW girls claiming a silver medal in the National competition.
The program will induct a total of twenty eight female and male athletes aged sixteen to eighteen, which could potentially be quite the 'handful' to manage for some, but will skills learned over many years in her 'kit bag' Andaloro enjoys her role and does it with ease.
Speaking with Academy sports program manager James Watson, Andaloro reveals some of the secrets of her 'trade', stating that at sixteen years of age an athletes' next step is adulthood and players need to be able to take care of their own affairs and become independent.
The mums and dads of the hockey community are generally wonderful people but for them, it's time to take a back seat and let the youngsters come forward. It is a really busy period for these players, most are doing their final year of schooling, so quality planning and communication skills are vital.
Andaloro considers that a total commitment to the program is required, especially learning the art of personal responsibility and communication and by the end of the program, she is very proud to say, they 'get it', that is why she love SWSAS hockey so much.
For information regarding Academy programs visit www.swsas.org.au or call 4627 7622.