Juniors showcase HOT rugby league Talent at Academy Trials
Written on the 16 December 2014 by SWSAS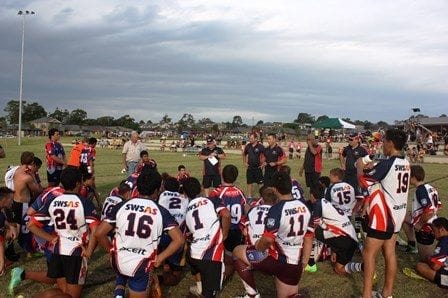 WITH THE WEATHER providing a scorcher the past few weeks, the talent displayed on the footy field was even hotter at the South West Sydney Academy of Sports Rugby League trials.
On what commenced as a muggy 35 degree Monday, the weather Gods were kind to local players as the hotness of the day dropped sharply to a pleasant temperature for Rugby League, in the hour leading up to the Academys 2015 Rugby League trials.
Over 140 talent identified under 14 and 15 year players from the Western Suburbs District Junior Rugby League took to the footy field to battle it out, for a place in an intensive 6 week rugby league summer development program.
The trials saw the best athletes in their age group, play with passion and strength with only 68 spots up for grabs in the squad. There was blood, sweat and tears as each athlete attempted to produce his very best for the selectors.
Rugby league is one of the most popular sports in south west Sydney and this program is designed to give the athletes a competitive edge and to assist in their personal development, and also support a players pathway progression into professional Rugby League.
Wests Tigers well liked and recently retired player Liam Fulton was amongst those selecting the squad, along with Wests Tigers recruitment manager Warren McDonnell and Academy coaching staff members.
Liam was a former Australian School Boy representative footballer and knows what it is like to represent our local area, playing the majority of his junior football for the Western Suburbs Magpies, and leading its S.G. Ball side to victory in its 2002 Grand Final.
This program is provided by the South West Sydney Academy of Sport in conjunction with its program partners the Wests Magpies, Wests Tigers NRL, the NSW Rugby League and Western Suburbs District junior rugby league.
The Academy will also be supporting Country Group 6 junior rugby league players and its coaching staff members in the New Year.