Just Tri and stop them
Written on the 10 February 2015 by SWSAS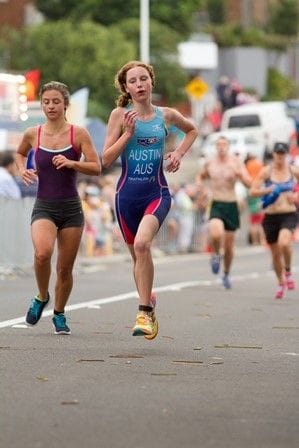 South West Sydney Academy of Sport triathletes have taken on some of the sports best and came away with some excellent personal results at the 2015 Wollongong Aquathlon, held as part of this year's Australia Day celebrations. Our local triathletes competed against World Champions, Olympians and some of the most elite athletes in NSW in an effort to raise much needed funds for local worthy charities.
The sport of Aquathlon consists of a continuous two-stage race involving swimming followed by running. Wollongong offered a range of different events for younger and older participants.
Head Coach Guy Creber openly shared his delight when speaking about the improvement of his Academy triathletes. He said it was very exciting to see how far they have come in the last few months, really strong, determined, and also really building on their racing experience.
The triathlon program was only introduced as part of the Academy mid last year and is already leading the way with athletes achieving much warranted individual and team successes across the board.
One such athlete is Morgan Sillis, Morgan has been selected to represent Australia at the ITU Duathlon World Championships, in Adelaide in October 2015. This is a tremendous achievement and excellent recognition for the initial work put in by Morgan and his coaching staff prior to and after joining the Academy.
Academy athletes are also preparing for the NSW All Schools Championships to be held on the 26 and 27 of February. The Academy and the wider triathlon community are looking forward to seeing the success of these Academy athletes at the Championships.