Laurie Daley Coaches SWSAS
Written on the 31 January 2014 by SWSAS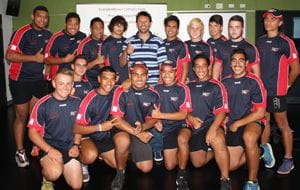 NSW State of Origin coach
Laurie Daley
came to town last week and demonstrated why he is such a well-respected person in Rugby League circles.
Daley was invited to town by the Academy's executive director Gerry Knights with a view to passing on his skills and knowledge to the South West Sydney Academy of Sport, Harold Matthews Cup representative team.
Daley's energy, along with that of the head of NSW Rugby League, CEO David Trodden was amazing, said Knights. They were exceedingly generous with the amount of time they spent with the boys and expounded great enthusiasm in everything they did.
CEO Trodden reinforced the importance of the south west Sydney region to the ongoing development of rugby league and commended the Academy and its program partner the Wests Tigers, for their excellent junior development efforts over past years.
Trodden also reinforced the NSW Rugby League's total ongoing commitment to the Academy and its programs.
Daley said the Harold Matthews Cup competition is recognised as the best U16 rugby league competition in the world and that the boys should be proud of their selection achievements.
Daly also said he recognised that a lot of the boys will be playing a year young in the 2014 competition, and is looking forward to following their individual and team progress over coming years.
Knights said, the boys were totally taken with Daley and with the individual interest and time he spent with the players, with a number of them laughingly saying they would not wash the hand they shook with Daley. The feedback for attending parents regarding Daley's address were glowing, said Knights.
The Academy's first of four trails will be against the touring U17 Western Australian representative team, in a lead up to the competitions commencement on 15 February.
For more information regarding upcoming games visit our event listing page or contact its administration centre on 4627 7622.