League CEO applauds academy
Written on the 6 June 2014 by SWSAS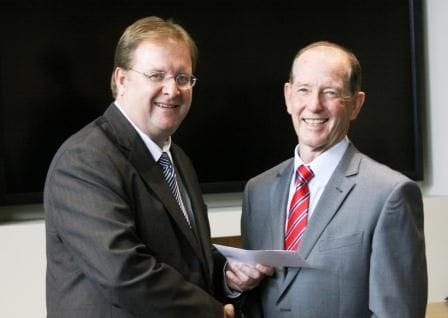 NSW Rugby League CEO David Trodden enthusiastically commended the outstanding support provided by the South West Sydney Academy of Sport, in its Rugby League development role in Sydney's south west region.
This recognition followed the NSW Rugby Leagues affiliates grant presentation to the Academy, at the Leagues new Rugby League Central complex, at Moore Park.
Trodden said, "The NSW and Country Rugby Leagues' have identified the south west of Sydney as a potential junior power house for rugby league and as part of its development review approached the Academy 6 years ago to support the codes local development.
And, the Academy had demonstrated its commitment to junior rugby league locally, by supporting high quality development and representative programs; and has indicated its assurance to continuing its support of the game into the future."
Academy Executive Director Gerry Knights said, "The Academy is appreciative of the financial and operational support provided by the NSWRL and is also very proud of its long-term strong partnership with the Wests Tigers in the provision of development and representative rugby league programs."
In 2013/2014 the Academy in partnership with Wests Tigers, provided representative playing opportunities to our local Country Group 6 and Western Suburbs District junior rugby league players, through the NSW Rugby League U16 Harold Matthews representative competition.
And, also provided underpinning development programs to 99 local 13 and 14 year old talent identified players.
Knights said, "Rugby League headquarters and the Wests Tigers are fantastic to us. And these programs could not be provided without the financial and logistical support of a wide range of organisations such as the Country Group 6 and Western Suburbs District Junior Rugby Leagues, the NSWRL, CRL, Wests Tigers, and its local program sponsor Elvio Modolo owner operator of Executive Automotive of Williamson Road, Ingleburn.
These programs are all about skill development, sports and life skill education and I am sure that when these players returned to their local Group 6 and Western Suburbs junior rugby league club's their coaches were delighted with their improvement. We are very proud of each and every one of these players."
Local companies, interested in partnering the development of the Academy, or one of its sports programs, should visit the Academy website www.swsas.org.au or contact Gerry Knights on 0407 415 847, or gerry.knights@swsas.org.au