Local Academy Athletes Represent State at NSW Parliament House
Written on the 25 September 2015 by SWSAS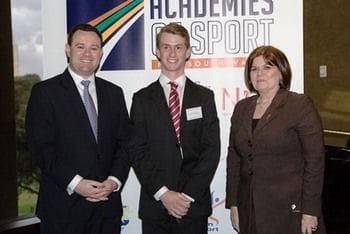 Three local South West Sydney Academy of Sport athletes took pride of place at last week's Parliament House NSW reception, hosted by the Speaker of the House, The Hon. Shelly Hancock MP.
Over 50 NSW Members of Parliament attended the reception, with The Minister for Sport, The Hon. Stuart Ayres commending all academies on the quality of athletes being developed by regional academies.
The Academy was represented by Nathanael Stewart hockey, Jessica Cronje wheelchair basketball and David Barnott-Clement hockey. The reception was organised by our local academy executive director Gerry Knights on behalf of all regional academies in NSW and was developed to recognise the excellent work of NSW regional academies and their athlete successes.
Local hockey player extraordinaire Nathanael Stewart was provide the honour of being the events 'key note' speaker, and spoke proudly of his time as a South West Sydney Academy of Sport athlete and how it assisted him in his amazing journey to the 2014 Junior Olympic Games in Nanjing, China; and onto being selected in the Australian U21 'Burra's' team.
At only 19 years of age, Stewart has achieved so much 'on and off' the hockey field, including being awarded a coveted Pierre De Coubertin Award (NSW) in 2013, for articulating what the Olympic Games mean's to him.
And on the field Stewart has walked through the representative age groups through sheer hard work and achieved Australian school boy, junior State and senior State representation along the way; culminating in winning a Gold Medal at the Junior Olympic Games.
Academy 'athlete of the year' Jessica Cronje received an outstanding round of applause for her remarkable recent achievements which have now placed her in a position for possible Paralympic Games selection, in 2016.
And it was David Barnott-Clement who proudly presented an eloquent and stirring 'athlete's response speech' on behalf of all NSW regional academy athletes at the conclusion the reception.
Barnott- Clement is an outstanding address speaker with his speaking 'claim to fame' being, he spoke prior to local Camden MP Chris Patterson at the SWSAS Graduation Dinner and Patterson laughingly requested that he not have to follow Barnott- Clement again, due to the quality of his presentation skills.
Our region's local attending MP's commended its three local athletes and needed no prompting to speak on the quality of our young outstanding Macarthur sports people, its volunteers and all associated with our region, whilst also continually commending the academy for its ongoing work.