Local Academy BMX Athletes hold top spots in the State
Written on the 21 August 2019 by SWSAS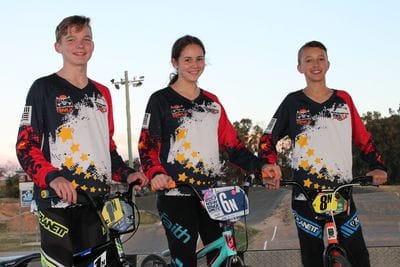 Three of our regions top BMX athletes have travelled the State since February, participating in nine series races and successfully accumulating points, in the 2019 BMX NSW State Series.
Each race has given the three South West Sydney Academy of Sport (SWSAS) athletes, the opportunity to secure a high-ranking position on the State leaderboard.
After some excellent racing in their respective age classes, Ireland Gerhard, Kayden Murphy and Rory Southwell have now all secured themselves a top three ranking position, in the State.
Ireland Gerhard raced hard for the top spot, missing out by the skin of her teeth and placed 2nd in the State for the under 14 girls class competition. Gerhard said, Bathurst was her favourite race, where she placed 2nd overall and was extremely proud of her result.
Her hard work really paid off, capturing a podium placing in the State Series. She said, she love's travelling all over NSW, while she gets to do what she loves.
Kayden Murphy's best race was at South Lake held in the Illawarra, where highly consistent racing saw him gain 1st place with an amazing 187 points out of a possible 200.
"South Lake was my best race day and it's the race I also enjoyed the most. I won my first ever State finals race and when I crossed that finish line, I couldn't believe it", he said.
An excited Murphy also said, "I love racing and I raced at all of the nine tracks in the Series to reach my goal. I now have a 3rd place podium placing in under 14's State Series".
Rory Southwell, the Academy's 2019 'Athlete of the Year', is 3rd in the State in the 15 boy's competition. Southwell's best performance was seen at the Hawkesbury BMX Club where he placed 2nd on the day walking away with 195 points out of a possible 200.
Southwell only competed in six of the nine State Series races, as he was competing in Belgium, representing Australia in the BMX World Championships. Southwell is entering the State Titles under high pressure to defend his title as State Champion.
These three speedy athletes will be recognised at the BMX NSW Awards Dinner on the 4th of October in Maitland, where they will receive their BMX Plate and Jersey.
Local Macarthur BMX Club President Fred Furner said, this was an amazing result for the athletes, the Academy and our club. And the athletes were 'over the moon' to have such great results.
And that it was definitely a credit to their continuous hard work, including tough SWSAS training sessions and off-track education sessions, to help keep their focus on the job."
All of their hard work in the State Series competition has been leading up to the State Titles which will be held in Maitland on the 6th of October, where every opportunity to succeed has been considered.
Nominations are now open for most sports, to keep up to date like the SWSAS Facebook page, or visit the website, www.swsas.org.au.