Local Academy Shark Attack Victim
Written on the 3 March 2016 by SWSAS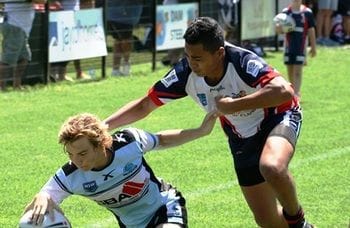 Rugby Leagues' Harold Matthews Cup reigning premiers the Cronulla Sharks were out to create history when they came to town to begin their title defence in round 1 of the NSWRL Junior Representative season.
Cronulla, claimed a double dose of premiership glory last season winning the prestigious Harold Matthews Cup and SG Ball competitions and is looking to become the first club to win back-to-back under-16s and 18s representative titles.
SHARK ATTACK was a fair summary of the game from start to finish, as it did not take the visitors long to drown the hopes of our local South West Sydney Academy of Sport, Harold Matthews team 82-0, in front of a large 'supportive to the end' crowd at Kirkham Oval, Camden.
The Sharks team full of junior representative players, was out to ultimate the clubs 2015 success and in total contrast, SWSAS our regions developmental second side was tasting the quality of 'best U16 competition in the World' for the very first time.
Although disappointed with the result Academy Executive Director Gerry Knights, said many good sides in this year's competition will also feel the savage bit of this outstanding Sharks team.
Although receiving many pre-season requests from players wishing to play for SWSAS from outside of the Macarthur/Liverpool area, Knights said the Academy will stick to its policy of providing representative development opportunities to local players only.
Across the continent the Cronulla Sharks SG Ball team inflicted a similar blow-out score line, defeating WA's representative team the West Coast Pirates 76-12.
Knights said, he hopes the Western Suburbs Harold Matthews team will square the ledger for our region and its 2015 semi-final loss, when it play's home to Cronulla in coming weeks.