Local Academy Softballer's Celebrate NSW Win
Written on the 3 March 2016 by SWSAS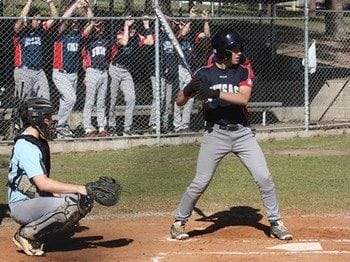 THE South West Sydney Academy of Sport has proven its worth once again, at the recent U17 Boys' National Softball Championships held in Mirrabooka, Western Australia.
With seven current Academy athletes making up the NSW squad of sixteen, the squad was unrelenting in its quest for the coveted Arthur Allsopp Shield.
The tournament saw NSW being put to the test again and again, as it battled through its tough regular draw, finally finishing with a tally of four wins and four losses.
Having lost to Queensland in round 2, NSW entered the playoffs still confident, but also anxious to how the game would turn out. But its fears were unfounded and in a very exciting game came out victorious defeating Queensland 7-4.
Queensland's loss meant it would have to play ACT for a place in the final and the opportunity to turn the tables on NSW. The Maroons went on to defeat the nation's capital 5-4, in another tournament cliff hanger; and thereby set up a final worthy of the two best teams and longstanding State of Origin rivals.
In a nail bitter of a game with many fine individual performances on either side, NSW managed to narrowly defeat Queensland in the final 5-4, in what many watching said was the game of the tournament.
By securing the National tournament trophy for the third straight year, NSW consolidated its place as Softballs top State, in the U17 age group,
Current Academy athlete Logan Campbell was recognised for his personal contribution to NSW's success, by being named in the National Championship's 'U17 All Tournament Team'.
NSW also took on Queensland in the Nox Bailey Shield final of the U19 Men's Softball National Championship. NSW demonstrated its class with a strong but close 3-1 win over Queensland. The U19 squad was filled with past Academy athletes with eight of the sixteen athletes coming from the Macarthur Region.
Three out of the four major award winners for the tournament were former Academy athletes. 'Player of the Final' was awarded to Henry Groth, 'Best Pitcher' was awarded to Chris Gillies and 'Most Valuable Player' was awarded to Blake Bell.
Head Academy Coach Peter Doherty was elated with NSW's success and praised all clubs and associations concerned with the development of junior Softball within the Academy region.