Local Hockey Star at Youth Olympic Games
Written on the 28 August 2014 by SWSAS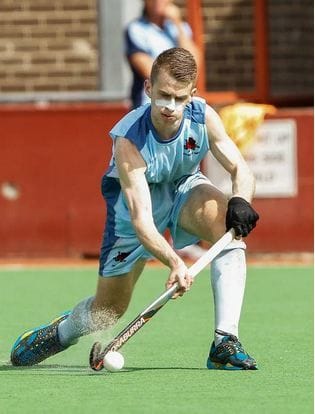 Australia's green and gold stars of tomorrow have arrived in Nanjing, China for the 2014 Youth Olympic Games (YOC). And local Hockey player Nathaniel Stewart is full of gold medal expectations.
The 2014 Youth Olympic Games will see over 3,000 athletes competing in 222 events across 28 sports, with hockey playing a key role.
Eighteen year old Stewart is a South West Sydney Academy of Sport and Macarthur Hockey Association representative, where he plays his hockey for the Macarthur Skylarks hockey club.
The Youth Olympic Games sees young athletes between the ages of 15 and 18 compete across a range of Olympic sports and provides athletes with valuable experience of multi-sports events, whilst providing fans the chance to get a glimpse of the stars of the future.
Academy executive director Gerry Knights always believed that Stewart was a star in the making due to his obvious passion to succeed; and his four years involvement in the Academy was just one of many opportunities he has taken in both hands, to further develop his life skills and hockey career.
Stewart has had a meteoric rise in representative Hockey and weathered a few selection backward steps, with professionalism 'above and beyond' his tender years.
In 2012, Stewart was selected for the Australian Schoolboys Hockey Team's European Tour and after playing in the 2013 and 2014 National U18 Championships; Stewart made the New South Wales U18 Men's Indoor Hockey Team. 2013 saw Stewart selected as the New South Wales junior male indoor hockey player of the year and in 2014 he was selected as Hockey Australia's Under 18 Men's Championship player of the tournament.
In support of the Youth Olympic Games, the International Hockey Federation (FIH) announced in July that there would be 20 teams competing at the Games. Ten teams in both the men's and women's competitions will showcase a total of 180 the World's most promising young hockey players representing 16 countries.
Each competition has two representatives from Europe, Asia, Africa, Pan America and Oceania in a truly global tournament. The men's competition features Spain and Germany representing Europe, Bangladesh and Pakistan from Asia, Canada and Mexico from Pan America, Australia and New Zealand from Oceania, and South Africa and Zambia representing Africa.
In the women's competition hosts China are joined by Japan, South Africa, Zambia, the Netherlands, Germany, Fiji, New Zealand, Argentina and Uruguay.
In keeping with this FIH has developed a small-sided complimentary game with their official innovation partner, Loughborough University. The new dynamic format has been designed to appeal to youth and generate new hockey playing nations. This is part of the FIH's strategy to keep growing the influence of hockey around the world.
No doubt the Youth Olympic Games will uncover stars that will shine at the Rio 2016 Olympics and other major international hockey events for years to come, hopefully Stewart will be one of those players.