Local Sports Academy Commended by NSW Rugby League Boss
Written on the 27 January 2016 by SWSAS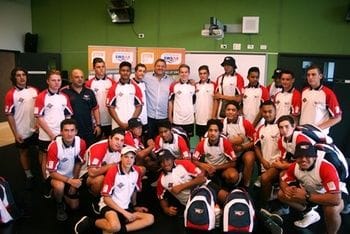 NSW Rugby League CEO David Trodden and past international Steve 'Blocker' Roach made the special visit to our region to address the incoming 2016 South West Sydney Academy of Sport, Harold Matthews Cup squad.
The codes CEO said, the NSW and Country Rugby Leagues' have identified the south west region of Sydney as a potential junior 'power house' for rugby league development.
Trodden also enthusiastic commended the outstanding support provided by the Academy in its local rugby league development role.
Trodden said, the Academy had demonstrated its commitment to junior rugby league locally very positively, by supporting high quality representative and development programs across the 13 to 16 year age groups.
A highly interactive Steve Roach pulled no punches when speaking to players, highlighting that they would be playing in what is considered the 'best' under 16 rugby league competition in the World.
Roach also stressed the importance of total commitment and teamwork to the young Academy players, mixing his valuable advice; with his own brand of humour, and relating stories of past glories and player commitment in his wise words.
Academy's executive director Gerry Knights was full of praise for the support provided by all of its Rugby League partners and sponsors, highlighting the valued contribution of its senior program partners the NSW and Country Rugby Leagues and Wests Tigers.
Knights stated the Academy was also proud of its association with Country Group 6 and Western suburbs junior rugby leagues and the Wests Magpies.
Knights informed those present that Academy programs are all about skill development, sports and life skill education, and stated that he was sure that when these players returned to their local and Western Suburbs and Group 6 junior rugby league clubs, their coaches will be delighted with their improvement. "We are very proud of each and every one of these players," he said.