Local Star Rolling With 'Aussie Gliders'
Written on the 15 July 2019 by SWSAS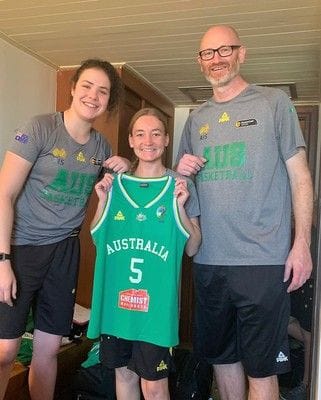 It's been a euphoric year for South West Sydney Academy of Sport Wheelchair Basketballer Jess Cronje. Cronje who was the Academy's 'Athlete of The Year' in 2016 has been competing on multiple fronts in recent times. She recently starred for NSW in the Kevin Coombs Cup as the NSW Blue's went on to secure a Bronze Medal.
This podium result came after an epic match against archrivals Victoria. Both teams were particularly hungry after suffering narrow losses in their respective matches the previous day. After a tense battle the two teams could not be separated at full time, resulting in a nail-biting double overtime finish. Jess Cronje scored some very timely baskets to help secure the victory and finished the match with 19 points!
Less than a month later, Cronje was in the starting 5 for the Australian Devils team that won a Silver Medal at the International Wheelchair Basketball Federation (IWBF) U/25s World Championships. This was a massive challenge, making a strong start to the tournament was her personal focus. She went on score 8 points, 3 assists and 8 rebounds as they beat Germany 55-37.
On day 2 the Aussie's defeated Turkey, Jess Cronje, again finishing the game with super impressive personal stats.
For the remainder of the tournament Jess continued to shine, consistently scoring at just the right moment swinging the tide of momentum in the Aussie team's favour. The Aussie Devils finished the tournament with 5 wins from 7 matches, giving them the Silver Medal, adding another trophy to the Cronje mantlepiece!
The icing on the cake! Her recent performances have earned her a place in the Australian Gliders squad that will play six matches against the USA. This is a phenomenal result and as a prelude to this match play series she will attend a nine-day training camp where her preparation will be managed by performance specialists from The Australian Institute of Sport (AIS), the NSW Institute of Sport(NSWIS) and the Victorian Institute of Sport (VIS).
She has since settled back into reality, focusing on winning the National Wheelchair league with her team, the Sydney Metro Blue Hornets. They are currently placed second, looking to close the gap against frontrunners, the Perth Wheelcats. Jess has been a strong performer in the National competition for many years now, and it's no surprise she feels confident as she continues her climb on the international stage.
The dream of being selected into the Australian Wheelchair Basketball Team that will take the court at the 2020 Summer Olympic games in Tokyo is very much 'alive and well'! Cronje says, "My focus now is to work hard and make the Olympic team for the Tokyo with the support and encouragement I have from my family, friends and teammates, I feel as determined as ever to take on the challenge."
For information about the SWSAS Wests Future Stars Scholarship Program Contact Academy Sports Program Manager, James Watson on 0246 277 622 or james@swsas.org.au