Local Triathletes mixing with the Nation's best
Written on the 20 March 2017 by SWSAS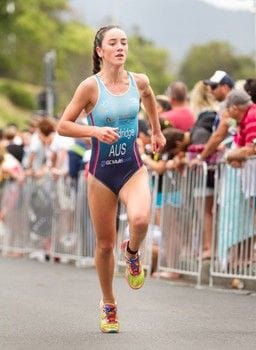 Ella Wooldridge Style and Speed. Making it look easy! Ella placed 11th in the recent National Junior Triathlon Series event held in Glenelg, Adelaide.
A select group of our region's best up and coming young triathletes recently made the trip to Glenelg, S.A. to represent the South West Sydney Academy of Sport (SWSAS) in Triathlon Australia's flagship junior racing series.
The 2017 Australian Youth Triathlon Series is the key national racing development opportunity in Triathlon Australia's talent pathway for Youth, Junior and U23 athletes, with ages ranging from 13-23 years.
The series is designed to challenge and enhance Australia's most talented developing triathletes by competing against their peers and also earning series points to determine the various Australian Series Point Score Champions.
Within the series athletes can also compete for Australian Championship Titles in both individual Triathlon and the exciting Triathlon Mixed Relay events. Ella Wooldridge (pictured) Erin Wooldridge, Matilda Offord, Aleesha Austin, Cody Turner, Thomas Hine and Blake Mckenna all packed their swimsuits, bicycles and racing shoes and were more than ready to undertake the challenge.
These fine young Academy athletes are also local progenies of the strong Mac Tri Club and are under the expert guidance of local coach Guy Creber.
At this particular race meet Erin Wooldridge, the younger sister of NSW talent identified athlete Ella Wooldridge had a wonderful win in the junior 'B' girl's race.
Speaking with SWSAS sports program manager James Watson we get some insight into, what makes these juniors tick. Watson said. "No doubt, Erin was very excited about her win; it was a great confidence boost to her.
But as is her nature, Erin almost instantly wanted to thank her coach and the other members of her squad. Erin has a very mature attitude and her main focus is to apply herself to the program that her coach has mapped out for her".
"And, bringing the team environment to what is generally an individual sport is a wonderful thing, something Guy does so well," said Watson.
Watson continued by saying, "The Academy provides a wide range of programs and the Triathlon program is great example of what it is doing with regard to bringing resources and tuition to our regions young sport stars.
It provides a clear pathway to advancement and provides structured training and education designed to allow athletes the opportunity to work to their maximum potential, that's our goal".
For more information on SWSAS Sports Programs, Visit www.swsas.org.au or telephone 4627 7622.
Photo Credit: Josh Brightman Balanced Image Studio