National and State Titles for Nakeisha
Written on the 16 March 2020 by SWSAS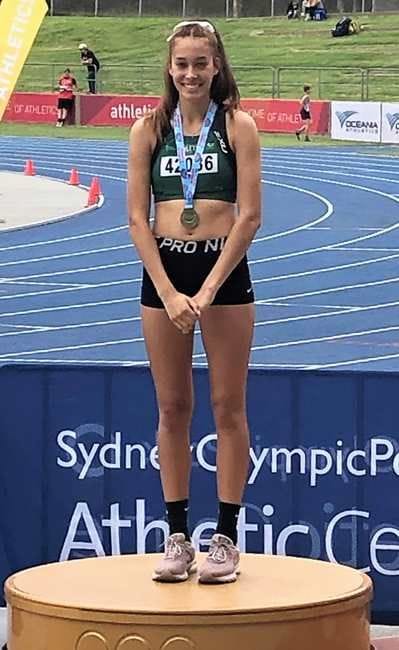 Competing in the U17's category at the Athletics NSW Junior Championship, Camden jumping athlete Nakeisha Brimble, has continued her fine form bagging 2 medals! Brimble was dominant in her marque event, the triple jump, claiming yet another NSW Gold. 5.41 metres in the long jump was a pleasing result securing the Bronze. Adding some track sprints to the weekend, the multi-talented teenager was able to finish 12th in the 200-metre sprint clocking some very credible times.
Nakeisha is a 3rd year scholarship holder with the South West Sydney Academy of Sport (SWSAS) and was the Academy 'Athlete of the Year' in 2018. She was very pleased with her weekends results crediting her ever progressing strength as a significant factor. As a SWSAS 'Wests Future Stars' athlete, Nakeisha receives, athlete education, community engagement opportunity as well as direct financial support from SWSAS, facilitating access to specialist athlete development services across a broad sphere.
"I have been working really hard both on the track and in the gym, hours and hours of work building leg strength, core strength and teaching all these muscles to work together is definitely paying off! Pilates is a weekly thing now. This consistency is sometimes hard to schedule for our family, but I am happy with the strength I feel".
Nakeisha brings great maturity to everything she does, at just 16 years of age she understands the importance of balance. Committing to elite sport, education, family and friends is always a challenge. She is very thankful for the support she receives.
"Mum and Dad do so much for all of us kids, sometimes I am not sure how they do it! I love track and field; I love competing and a lot of my friends are in the sport which is fun. Some sessions are tough; training with friends means my motivation is normally pretty good! SWSAS is great. I love being part of a team"
The NSW success came of the back of a remarkable trip to 'All Schools Nationals" in Perth (December 2019). At this event Nakeisha won the Triple Jump in spectacular fashion. Her final jump was a huge 12.45 metres! This was a PB (personal best) of 26 centimetres which for an athlete competing at this level is almost un-heard of. This PB gained Nakeisha the gold medal by just 1cm!
The 2020 Australian Athletics Championships will be, this year, held at Sydney Olympic Park. A full week of top shelf action; March 21-29. Nakeisha is quietly confident she can do well and is very excited for the opportunity to again compete at this level.
The SWSAS Wests Future Stars program provides support for local athletes competing at state levels of competition and above who are striving to be the very best at their sport. Be sure to keep up with all the SWSAS Wests Future Stars by following us on social media (Facebook - Instagram) and checking out our website https://www.swsas.org.au/
For information about the SWSAS Wests Future Stars Scholarship Program Contact Academy Sports Program Manager, James Watson on 0246 277 622 or james@swsas.org.au