Netball 'Walkers' Into The New Year
Written on the 10 February 2021 by SWSAS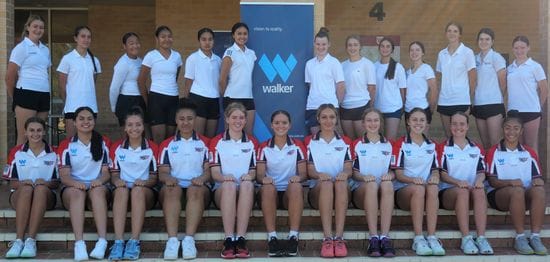 The South West Sydney Academy of Sport was proud to announce that Australian property developer, the Walker Corporation would extend their partnership as major partners of the South West Sydney Academy of Sport 'Walker Corp.' Netball Squad.
Partners since 2017, Walker Corporation's Regional Marketing Manager Michael Cox was delighted to make the announcement extending the partnership with the Academy Netball program through to 2023.
"It is exciting to have Walker Corporation recognise the value in a continued partnership with the Academy" said SWSAS CEO Gerry Knights, "Given the COVID-19 pandemic has reduced the ability of many partners to continue financial support, we are greatly encouraged by the ongoing partnership with the Walker Corporation.
Lang (Walker) has always been very supportive of community projects, especially those in junior sport."
"2020 was a successful year for our Walker Corp Netball squad, with former SWSAS Athlete and sport programs administrator, Nicole Styles making her debut for the NSW Swifts in the Suncorp Super Netball competition in August. It is that success that shows that the top level is not out of reach for our Walker Corp Netballers", said Knights.
The 2021 South West Sydney Academy of Sport Walker Corp. Netball Squad of twenty four athletes and three umpires includes; Aaliyah Marsh, Abbey Finlay, Abby Wijesekara, Amy Younie, Annelise Hall, Arielanna Lole, Ashley Vasquez, Belle Watene, Eliana Sapone, Ellie Hart, Hinemoa Boylan, Ilori Platten, Imogen Nies, Isabella Barna, Jade Van Der Saag, Janita Leota-Brown, Katarina Sincek, Kelis Ogle, Liesl Hopoate, Lilyana Talanoa, Nevaeh Matenga, P Margaret Lee, Siulolo Richter, Tara Jade Ottman, with Hannah Green, Lauren Kaye and Tegan Lewis joining the Netball Umpires Program.
Long-serving Academy Head Coach Van Nguyen has stepped aside from the lead role in 2021, however well and truly remains connected with the program as a senior Mentor coach, with former Assistant Coaches Diana Benioni and Tennile Rowley taking over as Co-Head Coaches.
Tennile Rowley in doing so, becomes the first former Netball squad athlete to progress through the program from athlete to trainee, apprentice and assistant coach, to the Head Coach role. Rowley having been a part of the 2002 Academy Netball program, where she was also awarded the prestigious Chairperson's Award.
Tina Savae becomes the most recent Academy athlete to join the Walker Corp. Netball Squad's coaching ranks having previously been an athlete in 2018.
Whilst the squad missed out on their usual season-opening camp in Berry, they have been hard at work in preparation for the Netball NSW Regional Academy Camp in mid-March, followed by the Your Local Clubs Academy Games competition in April.