Netball Challenge Accepted
Written on the 24 October 2019 by SWSAS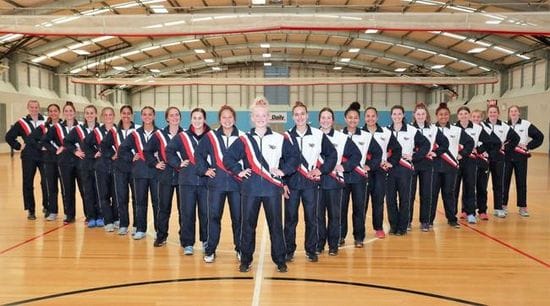 The first weekend of school holidays saw Netball NSW in conjunction with the Western Region Academy of Sport host the annual Academy Challenge. Netballers from every corner of NSW converged on Orange for 3 days of intense match-play. The event coincides with the launch of the NSW, state trial process, and is the last opportunity for emerging talent to put their name, on the selectors radar before the official trial period commences.
South West Sydney Academy of Sport (SWSAS) was strongly represented at this showcase event with both a Division 1 and Division 2 side competing. These athletes were supported by a total of 8 staff. The Academy also had 3 umpiring athletes attend. Taylah Graham who was awarded the Academies umpires recognition award backed this up with a stellar performance in Orange. Taylah was presented with her National B badge during this event which was a great thrill for the whole squad.
Athlete, talent identification is not the only focus of the Academy Challenge. Netball NSW in line with their continually evolving talent pathway program provide the very best in mentoring for the state's coaches, managers and officials. The personal and professional development opportunities provided to the Academy network support staff is top shelf! Netball really embrace every aspect of wholistic development, the success of this massive event is, 'the proof in the pudding'!
The SWSAS program which will end it's 2018-19 season on the 13th of October enjoyed some great success on this tour. The Division 1 competition is the highest level of Netball played by this U16 age group. It features numerous players that are already playing Premier League and Metro League netball. For SWSAS player Erin Bloor to be awarded MVP within this division is well deserved recognition. Erin will become SWSAS alumni in 2020. After initially missing selection in 2016-17 she is now a rising star and a wonderful role model for younger players right across our region. As well as this individual achievement the SWSAS Division 2 side was crowned challenge champions. High level consistency across the 3 days was appropriately rewarded.
The Academies Sports Program Manager, James Watson travelled with this program and was grinning from ear to ear upon return to Campbelltown. "For this program to enjoy so much success on it's final tour is very pleasing". Head Coach Van Nguyen who travelled with 3 children under 2 including a 9-week-old son was again on hand to provide incredible leadership. All program staff and athletes are provided the tools of self-sufficiency, accountability and resilience. A strongly communicated expectation lays the foundation for these personal growth challenges to flourish. When the whole program, works together, delivering 3 days of flawless execution; I am so very proud to be part of it!"
SWSAS netball staff are relentless in their dedication. They will wrap this program up only to commence the next with trials for the new scholarship intake to be held on the 31st October. It is anticipated that over 100 local netballers will be hoping to join the Academy development pathway.
For information about the SWSAS Netball Scholarship Program Contact Academy Sports Program Manager, James Watson on 0246 277 622 or james@swsas.org.au alternatively visit the website https://www.swsas.org.au/