New Volleyball Program Set to Take Off
Written on the 15 April 2021 by SWSAS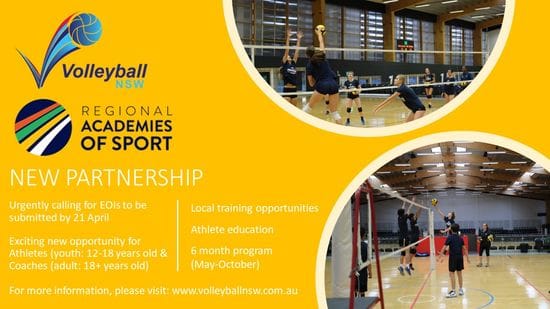 The South West Sydney Academy of Sport is pleased to announce that it is one of the NSW Regional Academies of Sport, who to have signed a new ground-breaking partnership with Volleyball NSW.
This partnership will see the Academy deliver volleyball programs in partnership with VNSW, specifically for athletes 12-18 years old within the Academy region, as part of the VNSW performance pathway.
Commencing in May 2021, the Academy will operate an Indoor Volleyball program through to October 2021, with the intention of bringing on both an Indoor and Beach Volleyball program throughout its traditional October to July program window in 2021-2022.
Academy CEO Gerry Knights was excited by the partnership stating that, it is an exciting step forward for the Academy.
"Volleyball NSW has recognised the education and athlete support benefits that Regional Academies of Sport are able to provide. And that our local Academy has led from the front, in engaging Volleyball NSW and the Regional Academies Network, in the development of this ground-breaking pathway opportunity". Said Knights.
Talent identified athletes will be selected directly by Volleyball NSW, before being inducted into the Academy, where they will gain access to its vast array of sports education, sports science testing, strength and conditioning and individual skill development programs. Athletes will also be provided a range of health and wellbeing programs, as part of their athlete development.
Knights also confirmed that the program will assist in the development of our region's Volleyball coaching staff as well, through the Academy's highly acclaimed QUBE 'coach development' program.
Expressions of Interest for prospective athletes aged 12 18, as well as coaching staff are available directly through the Volleyball NSW website. Or by contacting the Academy, with EOI's closing on Wednesday 21 April, 2021.
Interested business owners who would like to partner with the Academy to be a program partner of the inaugural SWSAS Volleyball program, are encouraged to contact Gerry Knights on 02 4627 7622, or visit the Academy Website www.swsas.org.au.