New Year and New Face at Local Academy
Written on the 16 March 2020 by The District Reporter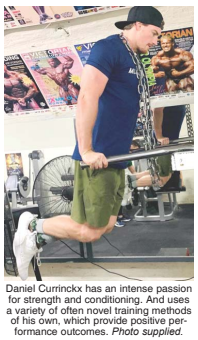 As the new year kicks off a lot of sports are also starting up for 2020 and that includes new programs for South West Sydney Academy of Sport (SWSAS). Academy CEO Gerry Knights said, the administration centre has been a hive of activity, with meetings undertaken with the state's leading sports CEO's and administrators, to discuss the wide range quality sports pathway programs for the local region's talented athletes.
Also taking place are hundreds of registered athletes representing ten different sports - testing their potential to become a SWSAS athlete. Incoming sports program coordinator Daniel Currinckx said the selection process and opportunity to be chosen is tougher in some main-stream sports than others, but this does not mean the quality of athlete is any different. "As a newcomer to SWSAS it is personally motivating to see athletes engage in the excitement of selection and eager to test themselves against the well-credentialed selection processes, implemented by SWSAS," Currinckx said.
With a background in athletics, soccer, personal training, nutritional coaching and even a chef to boot, Currinckx offers a vast range of knowledge and will no doubt bring exceptional value to SWSAS athletes and coaching staff alike. "He has great passion towards developing sporting performance, human movement and exercise physiology, leaving no stone unturned to provide the best resources across all SWSAS sporting programs," Knights said. "Daniel is continually striving to educate and grow in the sports
industry, always on the front foot and leading by example."
The new addition said SWSAS has welcomed him with great enthusiasm and is provides "tremendous support in helping make a difference in the lives of talented young athletes". Currinckx said. "The athletes are eager to achieve success and embrace the education given to them which is indicative of the exceptional talent coming out of SWSAS."
For details regarding the academy call (02) 4627 7622, visit South West Sydney Academy of Sport on Facebook, or visit www.swsas.org.au
Author:
The District Reporter