Newly Crowned King of the Pins
Written on the 13 October 2017 by SWSAS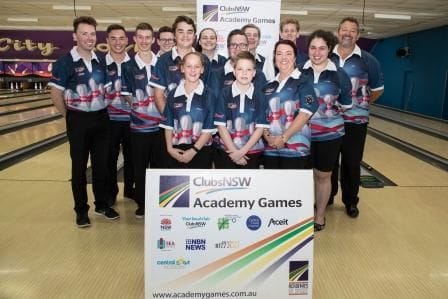 South West Sydney Academy of Sport Tenpin Bowling scholarship holder Daniel Bourke has unleashed his potential in a flurry of amazing performances that culminated in a perfect game.
Fourteen year old Daniel scored the maximum 300 (12 consecutive strikes) recently at Campbelltown Bowl, which is truly remarkable. Many, very good bowlers will never achieve this milestone so for Daniel to have 'ticked this box' already, all goes well for his future in this sport.
Daniel who is the youngest member of the Academy squad developed a hunger for competitive Tenpin bowling watching YouTube video's as an eight year old. He continually harassed his father Jeff to put him in the junior league and he has not looked back.
Speaking with Jeff, who is immensely proud dad, we get a feel for the drama that unfolded. He said, "A couple of weeks ago Daniel bowled a 267 which was eleven strikes, so close but yet so far! It was Sunday night and Daniel was bowling well, I was getting ready to go home as he started his last game for the night.
Through eight frames, he hadn't missed a pin and his rhythm was really smooth, he was in the zone, I started to dream. The last two frames are the hardest; the pressure builds with every strike. For him to keep his cool and just 'knock em' down like that was amazing. He works really hard, we are very happy for him".
Daniel, who is coached weekly by Eric Jang and mentored by Academy head coach Daniel Webb recently upgraded to a 14 pound ball. He is only small of stature but his technique is strong and this heavier ball has proved to be the right move. He is in a real 'purple patch' and thoroughly enjoying his sporting community.
Talk of 'reactive' balls and 'lane oil patterns' is standard fare when around these athletes, it's a remarkable sport, very few people understand that 'arcade bowling' and tournament bowling are very different. Luckily for the ambitious juniors in our region Daniel Webb knows just about everything and he has a real passion for passing this knowledge on.
When talking locally, Jason Belmonte is probably Australia's least recognised world champion. He has an unusual 'two handed' style and is a massive star in the United States.
Bowling as a sport, where young athletes enter a performance pathway and strive for their very best is relatively small in Australia. The success of Jason is a good source of inspiration for our youngsters.
The Academy bowling program is currently accepting nominations for its 2017/18 program.
For information regarding Academy programs visit www.swsas.org.au or call 4627 7622.