NIB Games showed off players
Written on the 6 August 2014 by SWSAS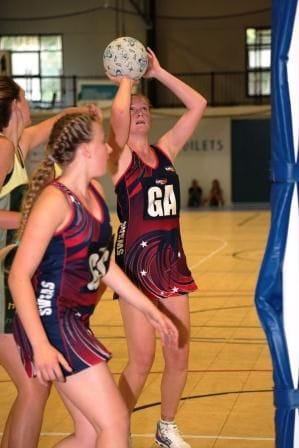 The South West Sydney Academy of Sport, Netball squad proudly held the Academy banner high at last week's Hunter Academy of Sport, NIB Games. The Games were held across the Hunter region from the 9 July to 13 July.
This annual event is hosted by the Hunter Academy of Sport as a part of the region's Hunter Festival of Sport and featured a large array of sporting opportunities across a wide range of sports, for young athletes from its region and across the State.
The Academy proudly entered a team in the Games highly prestigious Division One tournament, even though it was below strength due to a large number of injuries and illness leading up to the competition. Held at Maitland Netball Centre, the competition is 'invitation only' and provided the Academy athletes with essential on-court experience, competing against other top regional Academies.
The team comprised of some of the best younger U/ 18's Netballers in the South West Sydney Region and included rising stars such as Bianca Caruso, Abbi Chruch, Abbey Gillam, Laura Henderson, Liana Hogarth, Emma Houghton, Abby O'Flynn, Paige Pirrotta, Maddison Rullis, Leila Tovehi and Ashley Valeni.
Over half of the team stepped up into the Opens program this year and are only 16 years of age and competed in the tournament for the first time. Senior player Ashley Valeni was captain of the squad and brought a wealth of experience and knowledge, from her stint in the 2014 U/17s Australian squad, after having 6 months off with injury in 2013.
The tournament was played in a round robin format with each competing Academy playing all teams in their division. After an impressive first two days of play and only going down to the powerful Western Sydney Academy of Sport and Sydney Netball Academy, the squad went into the final day, with strong results and high hopes of finishing well. Day three was also extra special as Netball NSW had organised the NSW Swifts players to come along and support their individual designated Academies.
The Academy girls ended up finishing in a highly regarded second place, which made Coach Jaqua Heddle very pleased considering the number of players lost to injuries in previous competitions.
Heddle was quoted as saying, it was an absolutely fantastic few days of hard work and determination, put in by all players and the Academy could not be any happier with such outstanding results.
The NIB tournament was the team's final session as an Academy squad and a fantastic end to their 2013/2014 program.
If you would like to learn more about the Academy, or its Netball program contact Gerry Knights on 0407 415 847, (w) 4627 7622 or gerry.knights@swsas.org.au or visit the Academy website www.swsas.org.au