Night of nights will celebrate local sport heroes and stars of tomorrow
Written on the 30 June 2017 by SWSAS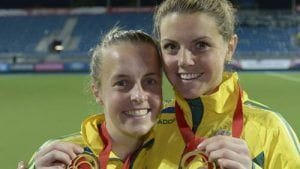 SOUTH WEST VOICE Eric Kontos on Monday, 12 June, 2017 in Featured

Champions: The 2007 and 2008 South West Sydney Sport Academy athletes of the year, Hockeyroos Emily Smith and Kelli White epitomise the awards attributes. After winning their local award the pair went on to gain national, Olympic and Commonwealth Games representation.
THERE are plenty of wonderful sport presentation nights in Macarthur every year, but only one South West Sydney Academy of Sport graduation and awards dinner.
This is the big one when it comes to celebrating both past champions and the rising sport stars from our region, making it the indisputable night of nights for local sport.
On Friday, July 28 at the Cube in Campbelltown Catholic Club, the academy will celebrate 20 years of sporting excellence when it holds its 2017 dinner.
There will be a number of highlights and up among them will be having five very special Australian sporting heroes as guest speakers.
Each one has a very special personal and moving story to tell, which will inspire the 700 lucky people who attend the July 28 dinner.
Another guest speaker will be NSW Minister for Sport Stuart Ayres, who will join other dignitaries and sport chiefs who will be in attendance.
But the equal top highlight is once again going to be the naming and presentation of awards to academy athletes for performances during the past 12 months.
It is these awards which reveal the local sporting stars of tomorrow.
Last year the big one, athlete of the year was shared for the first time ever when outstanding wheelchair basketball para-athlete Jessica Cronje and Australian representative softballer Blake Jackson were named joint winners.
Gerry Knights, the proud executive director of the academy who has been there since its inception, says the judges of the awards are in for another mighty challenge in deciding winners.
"It will again be a very tough task for the academy's award selection panel this year,'' Mr Knights said.

Wheelchair basketball sensation Jessica Cronje is another academy champion.
"We have extra sports in 2017 to include in the awards, with the academy now supporting 17 sports.
"But it will also be tough for the judges because a large number of academy athletes have done really well this year, winning selection in NSW and Australian teams, or achieving outstanding personal success.
"And it's important to remember that as far as the award judges are concerned this is only part of being a holistic athlete.
"The panel is looking for those special athletes who possess the defining personal qualities of a positive attitude, total commitment to task, leadership, respect and responsibility and a commitment to community.
"These are the virtues that set special athletes above the rest,'' Mr Knights said.
"That is why whoever wins the athlete of the year award will be very special.''
The chief executive revealed that this glamorous annual event also offers opportunities for academy athletes to develop other skills by stepping into an MC role during the night. And students from Campbelltown's Performing Arts High School are also involved as artists and back of stage management staff.
Just another reason the South West Sydney Academy of Sport graduation and awards dinner is the night of nights for local sport.

SNAPSHOT
WHAT South West Sydney Academy of Sport graduation and sports awards' dinner
WHEN 6.30pm for 7pm, Friday, July 28
TICKETS Phone 4627 7622 or email james.watson@swsas.org.au please note that ticket sales close on July 13.
If you would like to know more about what the academy is all about visit their website swsas.org.au