NSWRL Performance Unit Tests Academy
Written on the 2 December 2015 by SWSAS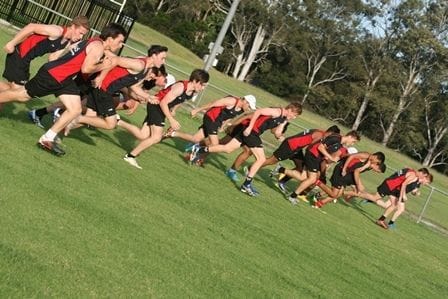 The South West Sydney Academy of Sport, Harold Matthews Cup train-on squad has been put through its paces prior to the commencement of its 2016 representative season, by the NSWRL performance programs unit.
NSWRL hit town to fitness test its first ever U16 representative club side. The unit is normally reserved for NSW State of Origin senior and junior representative teams but is looking to expand its understanding of the fitness capability and requirements of NSWRL's junior representative football players.
What lies ahead for athlete's is very important in gaining an edge over competitors, which is why the Academy continues to seek the support of the NSWRL in its endeavors'.
The rigorous testing program was overseen by the performance programs manager Jamie Feeney who said, the unit is looking to support the next generation of Blues Origin players and knowing where players currently are maturity wise, will assist in the unit's pathway development program.
Although very positive with the efforts of players, the Bulldogs premiership winning player was direct to the point with players regarding their personal commitment to fitness. Feeney stated that the information provided from testing would highlight personal areas of required improvement be it speed, agility or body size.
Testing not only provides feedback for Academy coaching staff members, it also provides athletes with an insight into the various types of testing protocols they will be exposed to, should they progress onto higher representation.
The unit will return to Campbelltown to re-test players after their short Christmas break and provide an indication of their level of improvement and any aspects of their fitness that may require additional work.