Our Best Head West for Aussie Rules Nationals
Written on the 13 October 2017 by SWSAS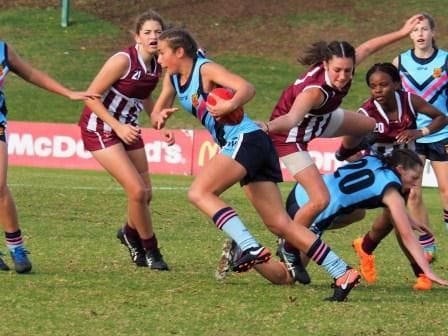 South West Sydney Academy of Sport (SWSAS) athlete Amy Sligar has been named in the National, Australian Rules Football (AFL) U15's team. This is a remarkable achievement and a meteoric progression through the ranks. Amy has just graduated from the SWSAS 2017 Netball season. She was the recipient of the Netball programs highest accolade at The Academy's recent Graduation dinner and awards night.
Amy's obvious athleticism was noticed by AFL talent scouts and she was encouraged to trial for the Combined Catholic Colleges team. She made that team and on the 5th of June the squad travelled to Albury to compete against NSW's representative High Schools. To say this tournament was successful for Amy would be an understatement. Her team went through undefeated, she was named 'Most Valuable Player' and for icing on the cake, Amy was selected in the NSW 'Bluebirds' AFL team.
Speaking with Academy, Sports Program Manager James Watson, an obviously excited Amy said. "As a netballer there are lots of rules and lots of lines. Aussie Rules is so much fun; it seems they never blow the whistle! Catching and passing, although different to netball were pretty easy for me. Kicking and tackling are new skills but I am improving everyday". Amy who is also an accomplished track athlete competing for NSW in both Middle Distance running & Steeplechase was never going to have any problems with the extra kilometres an AFL footballer must travel.
During the last week of July, Amy and her NSW Bluebirds team travelled to Perth to compete in the National Championships. This week-long tournament had all the best players in Australia competing fiercely for a place in the Grand Final. The NSW team had a magnificent win against the Home State to set up a Grand Final showdown against the 'Vic's'. Victoria had defeated the NSW girls in the preliminary rounds and again they were too strong in the final.
The NSW girls were well pleased with their efforts and for Amy, her personal achievements were acknowledged. "I was named in the All Australian Team. This team is a merit list of 25 players that were selected for their skills and game play over the carnival. To make this team is a proud moment for me and something that I will never forget. I enjoy playing AFL and I am excited about the further opportunities for women in AFL" she said.
For information regarding Academy programs visit www.swsas.org.au or call 4627 7622.