Pitcher Perfect for Skilled Teen
Written on the 6 June 2019 by Macarthur Chronicle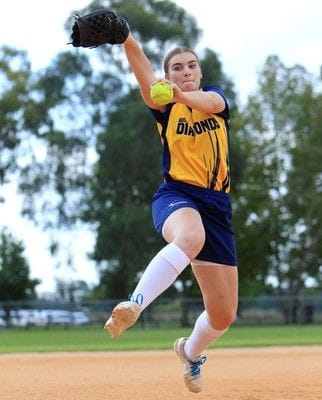 A BRADBURY teenager's rocket arm has taken her around the world, representing Australia's green and gold in softball.
Mia Gilmore, 16, will soon have an American stamp in her passport, leaving the country later this month. The pitcher began playing the sport as a seven year old, inspired by her family's love for the game, and lists her pop as a sporting hero. "He is the one who trains me and pushes me hard to get to where I want to be," she said.
Gilmore said, despite her recent triumphs, success didn't happen overnight.
"At the start of my adventure I hated softball because I could hardly catch a ball that came to me," she said.
"As I trained more I began to succeed and fell in love with the game."
Now training six days a week, the South West Sydney Academy of Sport athlete has built an impressive sporting resume.
She was recently crowned the State League MVP and Rookie of the Year, Winter League MVP and was a nominee for the SWSAS Athlete of the Year. Gilmore, whose ultimate goal is to play in the Olympics, said there is so much to love about softball.
"Softball is like a big family and everyone knows everyone," she said. "I love going to the fields because just being with the girls and training brings me happiness."
Despite only being 16, Gilmore will represent Australia in the under 19s World Cup in August, but remains grounded about the future.
"Balancing school and softball is also another challenge but I know school always comes first," she said.
Author:
Macarthur Chronicle