QUBE Coach Education Program Takes Flight
Written on the 1 March 2021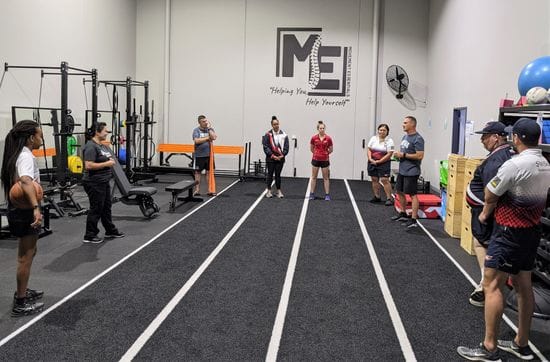 The academy launched its 2021 QUBE coach development program in early February, with its first session undertaken by academy coaches, in conjunction with academy service provider, Movement Essentials.
"The uniqueness of having coaches representing multiple sports, who relished the chance to undertake a practical workshop, in functional movement and recover for performance; which provided them the opportunity to share their own sports coaching knowledge amongst their peers, was simply amazing, "said the Academy sports administration officer, Stephen Craig.
Coaches who attended were definitely challenged, to 'think outside the box', when it came to developing warm-up specific training routines that provided a clear correlation, to the activity the athletes were performing.
Coaches then attended a session in late-February on "Building winning and High performing Teams", which was conducted by esteemed basketball coach, Rob "Bevo" Beveridge.
Coaches heard first hand Bevo's experiences within high performing sport environments, from his days with NSWIS, through to the World Championship winning Australian U23 team, along over 300 NBL Games, through to putting together a team of underdogs in the Scottish national team at the 2018 Commonwealth Games, coming an unexpected fourth.
"Bevo is one of those coaches who has been through both good and bad experiences in building high performing teams, always getting the best out of his players often with limited resources. His ideas on undertaking individual performance contracts with his athletes and building an athlete-centred environment that is heavily supported by administration and coaching staff is definitely a model for success", said Craig.
Rounding out a huge start to the year for Coach Education was a presentation on Finding a Coaches Transformational Purpose.
"An exciting component of the QUBE coach development program is the presentation held in mid-March from 3D Coaching Australia, specific to finding a coaches transformational purpose, which is really about the reason why coaches coach the way they coach," said Craig.
Through the partnership with QUBE Logistics and 3D Coaching Australia, the Academy was able to 'open up' and extend the invitation to community coaches from across South West Sydney to attend.
"Finding a coaches transformational purpose, is aimed at developing coaches across three dimensions; to not only become intentional and developing the 'why' in their coaching, but about becoming fundamentally sound, skilled in coaching the mind, and developing the heart of the athletes. Thereby, allowing coaches to continue to identify and develop their own purpose and leave a lasting coaching legacy that grows ongoing success within their teams," said Craig.
"It is about creating programs that help athletes to get from where they are now, to where they want to, or sometimes need to be both in and out of the sporting arena."
An exciting outcome of the 2021 QUBE Coach Education program is the Academy securing each of its coaching and support staff access to not only the online '3Dimensional coaching' course and resources, but also access to ongoing coach support networks, or "Huddles" , which the Academy will facilitate both face to face and online, with the assistance of the 3D Coaching Australia, and American 3D Institute.