Recognising past and present sporting start
Written on the 30 June 2014 by SWSAS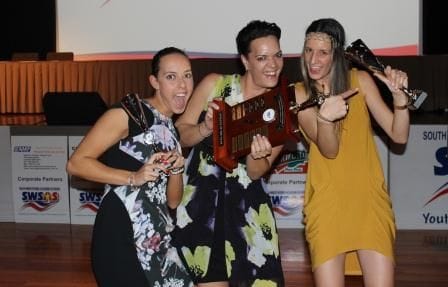 The South West Sydney Academy of Sport will be holding its 'Graduation and Sports Awards' Dinner in recognition of the achievements of current Academy athletes and its high achieving past sports stars.
The Academy's executive director Gerry Knights is certain that this year's event will again be a 600 guest sell-out. He said that he was pleased that the Academy could once again hold the event at Campbelltown Catholic Club's 'The CUBE' entertainment and convention centre. The Catholic Club is the 'naming rights' sponsor of the Academy and a venue of this quality is most worthy of this event.
Knights said, the new Minister for Sport and Recreation The Hon. Stuart Ayres will be in attendance along with representatives of all three levels of government, plus past local Olympic and Paralympic athletes.
And, that the evening will support the Academy's goal of providing local opportunities for local youth, by engaging students' from Campbelltown's Performing Arts High School to support the evening's entertainment, as artists and back of stage.
Knights continued by saying, it will be a very tough task for the Academy's award selection panel this year, due to the diversity of sports the Academy now supports and the calibre of athlete achievements during the past 12 months.
The Academy has a large number of high achieving athletes that have been selected in NSW and Australian aged teams, or have achieved outstanding personal success.
But, this is only part of being a holistic athlete as far as the Academy award selection panel is concerned. It is looking for those special athletes that possess the defining personal qualities of a positive attitude, total commitment to task, leadership, respect and responsibility, and a commitment to community.
These are the virtues that set special athletes above the rest, said Knights.
The event will be held 6.30pm for 7.00pm Friday 1st August 2014. Tickets are available by contacting the Academy on 4627 7622, or nicole.styles@swsas.org.au with ticket sales closing 11 July 2014, or when sold out.