Region Breeds Athletics Stars
Written on the 30 November 2015 by SWSAS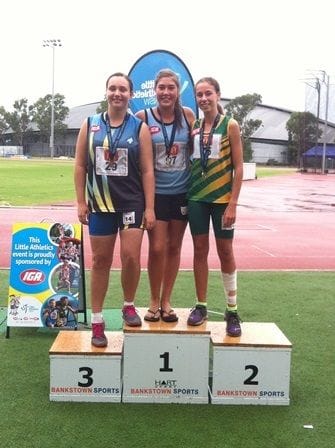 South West Sydney Academy of Sport 'Lone Star' program athletes are dominating across the 'track and field' podium with three Academy athletes excelling in State competitions.
Academy athlete Renee Fassolis continues to excel in many track and field disciplines and has recently returned from NSWCHS and the NSW All Schools events where she impressed State organisers and onlookers alike.
Fassolis placed 2nd in discus and 3rd in shot-put, qualifying her for both disciplines in the Australian Junior Athletics Championships, to be held in Western Australia in March next year.
This year also saw Renee break 3 records at the Mount Annan High School athletics carnival, which will see her name go down in the school's sports history book.
Brodie Heinecke is in his first year of the 'Lone Star' program and competed in the 2XU All Schools Athletics Championships at Homebush on Sunday the 11th October, where he place 2nd in triple jump. This placing qualifies Brodie for the Australian All Schools Championships to be held in Melbourne in December.
Louise Cranston is also in her first year with the Academy program and has been identified as one of Australia's best young athletes after being selected to participate in the U15's National Little Athletics Camp. Cranston will participate in her specialist disciplines of long jump, high jump and triple jump.
The Academy's 'Lone Star' program assists athletes aged between 14 and 19 years, and are involved in an individual, or team sport, or in a sport category not currently supported by the Academy.
Scholarships are awarded based on an athletes' most recent performances at the State Age level, or equivalent. Athlete must be a member of a club, regional and or state sporting body.