Regional Academy Athletes set to Shine in Tokyo
Written on the 9 July 2021 by SWSAS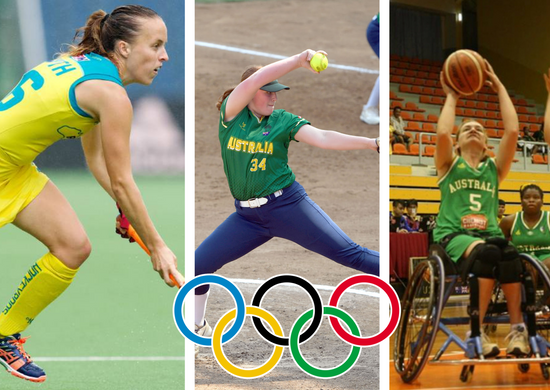 As Australia's largest Olympic team since Athens in 2004 was being announced in early July, those at the South West Sydney Academy of Sport held their breath, as three former graduates were handed their 'tickets to Tokyo'.
All three former Academy athletes are amongst Australian teams who are holding strong medal aspirations, as they enter their final weeks of preparation ahead of the much anticipated Olympic and Paralympic Games. Our local Academy graduates form a part of an incredible 30 participating former athletes, who have come through the NSW Regional Academies of Sport network, on their way to Tokyo.
Hockeyroo Emily Chalker is headed to her third Olympic Games, where the team will be looking to maintain the form, of its 2018 Gold Coast Commonwealth Games, Silver Medal performance.
After a disappointing sixth in Rio, Chalker's Hockeyroos, currently ranked fourth in the World, and buoyed on by their recent pre-Olympic warn-up series winning form, against New Zealand. And will be looking to return to the medal dais, in Tokyo.
The Academy Softball program has finally been able to move on from the sports disappointment at being excluded from the Olympics after 2008. By celebrating its return in Tokyo with the inclusion of Academy graduate and former NCAA Softballer, Gabbie Plain.
Headed to her first Olympic Games, Plain's renowned ability, continually demonstrated throughout the US Collegiate system, ranks her as a pitcher who is sure to excite. As the 'Aussie Spirit' Softball squad look to medal for a fifth time in Olympic competition. Plain herself is no stranger to success, after helping guide her University of Washington side to Runners-Up in the Collegiate version of Softball's World Series, in 2018.
Our local Academy's third athlete heading to the Games will have to wait just a little longer for her Paralympic debut. With the Paralympic schedule not commencing until late August.
Wheelchair Basketball athlete and 2015 Academy Chairperson's Award Winner, Jessica Cronje will head to the Paralympic Games as a member of the highly fancied Gliders squad.
Despite failing to qualify for Rio 2016, the Gliders are currently ranked number two in the World. And as such are keen to build on their medal winning form, from their previous four Paralympic Games appearances.
Academy CEO Gerry Knights said, the addition of these Olympic and Paralympic athletes takes our very own local Academy's list in recent times to eight since 2000. With several more former athletes being named as reserves, and in pre-Olympic train-on squads.
And that the value of the Academy within our region, continues to demonstrate, that attention to detail, and quality on-field and off-field preparation, does eventually pay off.
The Australian Olympic Committee announced this week a Team of 472 athletes to compete in Tokyo, consisting of 254 women and 218 men, with a record 16 First Nations athletes competing across 11 sports.
---
Fellow Regional Academy's will see the following athletes representing Australia in the Green and Gold:

Hunter Academy of Sport (HAS):
Hockey: Mariah Williams, Matt Dawson
Sailing: Will Ryan
Triathlon: Aaron Royle
Waterpolo: Richie Campbell, Nathan Power
Central Coast Academy of Sport (CCAS):
High Jump: Nicola McDermott
Canoe Sprint: Dylan Littlehales
Northern Inland Academy of Sport (NIAS):
Softball: Stacey Porter
Hockey: Kate Jenner
Western Sydney Academy of Sport (WSAS):
Softball: Taylah Tsitsikronis, Rachel Lack
Canoe: Jessica Fox
Cycling: Amanda Spratt
Western Region Academy of Sport (WRAS):
Hockey: Edwina Bone, Lachlan Sharp
Illawarra Academy of Sport (IAS):
Track & Field: Sarah Carli, Jye Edwards
Hockey: Blake Govers, Flynn Ogilvie, Grace Stewart
Swimming: Jasmine Greenwood, Emma McKeon
Tennis: Ellen Perez
Skateboarding: Kieran Woolley
Surfing: Sally Fitzgibbons
Southern Sports Academy (SSA):
Swimming: Ashley van Rijswijk