Regional Athletes Celebrated
Written on the 13 October 2017 by SWSAS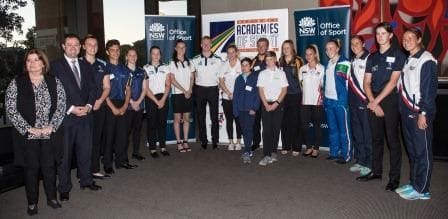 Seventeen of NSW's finest Regional athletes came together for what turned out to be a wonderful day of both personal development and recognition. The marquee event took place on Tuesday afternoon when the athletes, their families and respective Academies were hosted at a Parliamentary Reception by The Speaker of the House. The Hon. Shelley Hancock MP. The Speaker was joined by over thirty members of the NSW Legislative Assembly including The Minister for Sport. The Hon. Stuart Ayers MP.
Both The Speaker of The House and The Minister delivered superb speeches acknowledging the achievements of the athletes, the enormous efforts of the families and wonderful support provided to our sporting future by The Regional Academies. The South West Sydney Academy of Sport (SWSAS) is part of this collective. Minister Ayers who met many of those representing on the day was very considered in his extensive praise of The Regional Academies of Sport. The sentiment expressed, delivered an acknowledgement that not only does the Academy network provide wonderful sporting development but equally as important; personal enrichment and community engagement opportunity.
Twin sisters Amy and Natalie Sligar, both graduates of the SWSAS netball program represented SWSAS on the day. Natalie was flawless as she concluded proceedings by delivering the athletes response speech. Natalie was remarkable as she thanked the NSW Government, the Regional Academies and her personal support network. She made special mention of all the other talented athletes in the room. "Some provide competition opportunities; others provide motivation and inspiration, thank you".
All gathering athletes also took part in a leadership conference facilitated by the Regional Academies. This conference was hosted by former NRL and Australian representative Nathan Hindmarsh and GIANTS netball star Samantha Poolman. All athletes were glowing with positivity after this. The excitement and confirmation of inspiration was very obvious.
SWSAS is currently accepting nominations in many of its sports programs with others already up and running. This type of community engagement is available to athletes from every program. Our program calendar has many opportunities for scholarship holders to take public and leadership roles. Youth Sport Community.
For information regarding Academy programs visit www.swsas.org.au or call 4627 7622.