Rising Decathlete Star wins Top Academy Award
Written on the 14 December 2021 by The District Reporter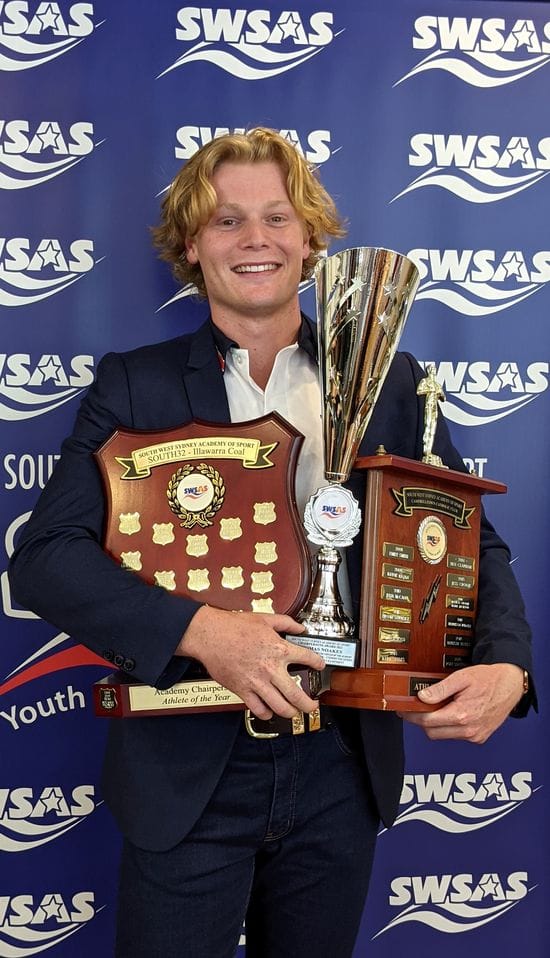 2021 Campbelltown Catholic Club Chairperson Awards Winner and South32 Academy Athlete of the Year Thomas Noakes
After a year again interrupted by lockdowns and sport pauses, the South West Sydney Academy of Sport was finally able to announce its Campbelltown Catholic Club Athlete of the Year, and the South32 Academy Chairpersons Award winner, for 2021.
With the Academy unable to present the awards in 2020, plans were well underway for the 2021 Athlete Graduation and Sport Awards Dinner in August 2021, yet another COVID-19 pandemic lockdown had other ideas.
The Academy was instead forced to hold its award presentations online, where its Chairperson award nominees were announced. And with the year fast running out, the Academy, at its final Board meeting for 2021 held in early December, proudly presented its most prestigious awards to Douglas Park resident, and Academy Wests Future Star athlete, Thomas Noakes.
Chairperson Peter Campbell, in presenting this year's awards, reflected on what had been a challenging year not only for the Academy, but the community as well.
"With the South West Sydney region having been the so-called epicentre of two major lockdowns within New South Wales, our sporting communities have been hit hard." Said Campbell.
"Many events and competitions have been cancelled, which has affected the training and competition ability of a vast majority of our athletes, including this year's major award winners.
Yet despite these challenges, in true South West fashion, our athletes have failed to give in, and keep punching above their weight to prove the true value of our region, and indeed Regional Academies as a whole."
Like most people, but particularly those involved in the sport of track and field athletics, Thomas Noakes major training facilities were not open throughout most of 2020 and 2021, thus limiting the amount of training and preparation in appropriate venues, he was able to undertake.
This was compounded even more so for Noakes, as he was also undertaking his HSC, at the same time.
"Unfortunately, some of the changed and compressed preparation led him to compete at the 2021 NSW Combined Events championships with a stress fracture in his back." Reflected Sports Program Manager Daniel Currinckx. But despite the pain and later scans diagnosing the issue, he won his events.
Following a full suite of rehabilitation, Noakes returned to compete in the final NASSA events prior to the July lockdown, winning all but one of his seven events, most importantly taking home Gold in the NSW Combined Event Championships U20 Boys Decathlon, in February.
Most recently, and to top off a momentous year, he walked, or should we say 'jumped' away with Gold in the 19yr Boys Pole Vault, clearing a handy 3.80m, at his final NSW All Schools competition held December 9-11.
Noakes is certainly worthy of being the Academy's top athlete for 2021, and is definitely a 2032 Brisbane Olympic Game hope said, Currinckx.
---END---
Author:
The District Reporter