Rising stars shine bright at academy graduation dinner
Written on the 21 August 2019 by South West Voice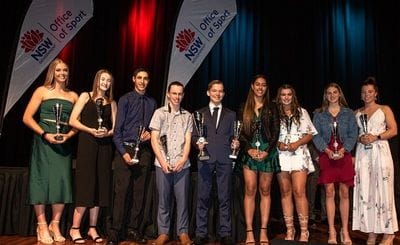 In a room brimming with athletic talent, just nine the chosen few were in the running to be named South West Sydney Academy of Sport 2019 athlete of the year.
By now most people in south west sydney know that BMX champion Rory Southwell took that honour.
But who were the other rising stars who were nominated and stood next to Rory as the announcement was made?
As their name was read out each one walked up to the stage to receive applause from a huge audience that included their peers, representatives of local businesses, CEOs of state sporting organisations and members of government, including NSW sport minister John Sidoti.
Kiahna Davis-White represented AFLW on stage after having had an incredible season as a scholarship holder and earning selection into the NSW/ACT AFL Rams.
To her left was Sarah White, on behalf of basketball, who embodied the dedication and commitment that every athlete should strive to have.
Brandon Vella followed, having proved to be a leader for the entire golf program group, during a season were plenty of new and inexperienced players joined the squad.
Mitchell Stevens was selected on behalf of hockey, for his commitment and enthusiasm to the program and everything it asked of him.
Rory Southwell, the eventual overall athlete of the year, was centre stage.
He proved fearless in the face of injury in the sport of BMX and came out the other side with his name and number on an Australia jersey.
Rahni Wilkes won selection to the U/23 Eastwood-Ryde Premier League Netball Team at the age of 16 ahead of hundreds of athletes older than her.
Mia Gilmore took the stage for softball, and her 2019 achievements included representing NSW at National Championships, as well as pulling on an Australian jersey to take the diamond against America and Japan on their home turf.
Next up was Madelyn Manny, who both represented triathlon and spoke on their behalf during the night. Madelyn has embodied the SWSAS process over the last three years, putting in plenty of hard work and developing into an athlete that is now representing NSW in the Australian All Schools Triathlon Championships.
Wests Future Star athlete Louise Cranston took the stage on the back of performances on the track over the last year that have created many admirers, so much so that she secured a student athlete scholarship at the University of Charleston in West Virginia.
"While it may seem that only the pinnacle of junior sports talent was displayed on stage, each athlete awarded or not, was deservingly recognised for their contribution to their sport and also their local community,'' says academy executive officer Gerry Knights.
"It is on nights such as this, that our community can appreciate the amazing work done by our local academy, which not only develops future sporting stars, but more importantly amazing young leaders, that are willing to give back.''
For information about joining a SWSAS Scholarship Program visit their website www.swsas.org.au