Rory Southwell: BMX ace beats serious injury to win athlete of year award
Written on the 11 August 2019 by South West Voice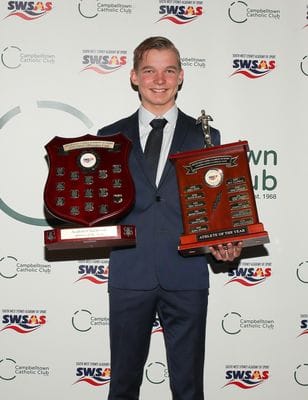 The 15-year-old BMX champion from Harrington Park who accepted the honour at the academy's awards dinner should not even be racing, let alone winning competitions and prestigious athlete of the year awards.
In 2017, a hip injury robbed him of the chance to take part in the BMX World Championships in the USA and kept him away from racing for 16 months.
Four of those months young Rory was in a wheelchair.
Despite his young age, all he could think of during his lengthy rehabilitation was the moment he could jump back on a BMX bike and take on the world.
"Humbled to receive the South West Sydney Academy of Sport major award'' he wrote on his Facebook page.
"Such an honour to have BMX recognised amongst so many talented athletes from many other sporting disciplines, with around 300 athletes part of the program in the region.
"Thanks to the academy and its sponsors, my coaches Kiel Dellow and Cara Wilde, Macarthur BMX Club and Fred Furner for their support and making this program happen.
"Thanks always to Ross Harland and Krankit Bike Gear who keeps me on the bike helping me achieve the results I strive for and doing the sport I love,'' Rory wrote.
"It's been a great year in the SWSAS team with many goals achieved and this award is the pinnacle.
"Felt like a rock star!''
When academy board chairman Peter Campbell announced Rory as 2019 athlete of the year, he described him as someone who "through hard work and diligence to training has already been extremely successful in their chosen sport.
"Tonight's winner is definitely a very special athlete,'' Mr Campbell told the huge audience in attendance, which included NSW sport minister John Sidoti, the mayors of Camden and Wollondilly and other VIPs.
"One that has accomplished so much already, at such a young age, this athlete cherishes and embraces every opportunity available.
"Our athlete of the year is BMX champion Rory Southwell.''
The very first time Rory Southwell rode a BMX bike he was just five years old.
"I actually crashed the bike and wanted to stop, but my father convinced me to keep going,'' he says.
Since he returned to racing in September last year, Rory's achievements have included a first place in the NSW State titles, sixth at ACT titles and third in the cruisers, eighth in the Australian titles cruiser, second in South Australia titles and second also in the cruiser, eighth in the Victorian titles and fourth in the cruiser.
He received the 2018 Macarthur BMX Club President's Cup award and recently represented Australia in the UCI BMX World Championships in Belgium in two events.