Rugby Competes at ClubsNSW Academy Games
Written on the 19 May 2014 by SWSAS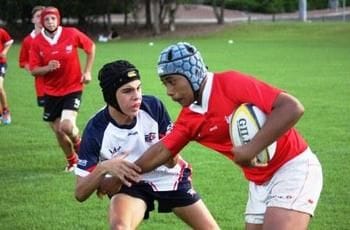 The South West Sydney Academy of Sport rugby union program recently attended the ClubsNSW Academy Games held in the Illawarra. Despite unpredictable weather, the rugby players put up a strong, but battle wearied front to showcase the best of what the ClubsNSW Academy Games is all about.
The squad is made up of athletes aged 13 to 15 years and the program underpins the Australian Rugby Union's Junior Gold development program. From last years SWSAS squad 6 out of the 10 eligible athletes were selected up into the Junior Gold program.
The Academy took a squad of 10 athletes and was joined by athletes from the Illawarra Academy of Sport. All players received a day of expert and practical coaching from Australian Rugby Union coaches such as Sean Barrett and Simon Hackett as well as the coaching staff from both academies. The players took away hand-on tips as a result of back to back sessions in various fundamental elements of the game.
ARU development manager Sean Barrett said that Regional Academy programs are the gateway for young players to climb to the top of the rugby ladder. It gives them access to some of the best sporting knowledge and inspirational leaders of today.
Although the sky was threatening to rain all day there was no dampening the players' enthusiasm. The day consisted of eight hours of intense skill training and a tournament where the two highly competitive Academies got to compete head on against each other. The tournament was defiantly a highlight for the boys; with the players have walking away from the event with honed skills and a wider range of rugby knowledge.
Barrett said the Academy Games are a great opportunity for the youth of today to express themselves through sport. It provides the players with the opportunity to improve their skills and have a great time with other talented athletes.
SWSAS would like to thank program sponsor Giakson Constructions Management and congratulate the following squad members on a successful tournament; Riley Alcorn, Marcus Bale, Elias Filemu, Jon Giakoumelos, Steven Harriman, Craig Hendricks, Sweezly Maroupa, Patrick Reynolds, Jordan Roberts and Caleb Tutona.
If you would like further information on the rugby union or any other Academy program please contact the Academy's administration centre on 4627 7622 or visit www.swsas.org.au