Size won't stop Bailey
Written on the 6 May 2015 by SWSAS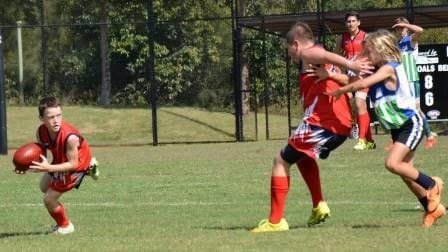 THE South West Sydney Academy of Sport recently competed at the 2015 ClubsNSW Academy Games on the Central Coast, in a weekend which was full of surprises.
One major revelation was the success of the Academy's Development AFL squad which saw the under 14's go through undefeated and the under 16's only lose one game and that was against the Western Sydney Elite GWS squad.
But the greatest surprise of the tournament was watching an explosive performance from the smallest athlete on the AFL field, SWSAS athlete Bailey Gray. Bailey may look small but his playing ability is larger than life.
Bailey faced the challenge of competing against athletes double his size but did not hide away from the challenge; instead Bailey rose to the occasion and put in performance after performance not to be missed.
The young mid fielder who plays for the South West Tigers was an unstoppable force across the weekend, with his fearless attitude placing him towards the top of the tackle count each game.
There's no doubt Baileys performance was one of the contributing reasons the under 14's squad remained undefeated for the entire tournament, with Bailey also scoring a number of goals to aid his team's success.
This was the first year AFL has taken part in the Academy Games and Bailey was more than pleased to be a part of it. The introduction of AFL proved a huge success and will grow into a highly competitive core sport of the Academy Games in years to come.
The Academy's program run in partnership with the Campbelltown Blues is looking forward to expanding its AFL program next year, by working closer with AFL NSW/ACT, the GWS Giants Academy and local clubs, to provide a wider range of AFL athletes the opportunity to participate.