Skiing Young Gun Riding the Slope of Success
Written on the 16 March 2020 by SWSAS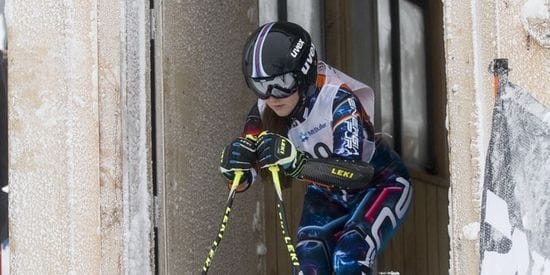 South West Sydney Academy of Sport (SWSAS) through its Wests Future Stars program is pleased to announce the commencement of scholarship for Wattle Grove athlete Catarina Di Ramio. Catarina, a hardcore racer who has an insatiable appetite for speed represents Thredbo Ski Racing Club, specialising in Alpine, Slalom and Ski Cross.
Catarina has been a strong presence on the slopes this year, consistently battling it out for top spot. A highly focused and dedicated athlete, Catarina's performances have given her the opportunity to compete in the FIS (Fédération Internationale de Ski) championship series races held in Australia. She competed alongside the best of Australia with this select group coming together, racing to gain points in the worlds pinnacle ski racing series. Her achievements in this series and more generally the 2019 ski season have been rewarded, with Catarina receiving a longlist selection for the 2020 Youth Olympic games to be held in Lausanne, Switzerland.
Alpine racing is her focus, but this energetic teen is no 'One Trick Pony'. Catarina who attends Thomas Hassall Anglican College has being crowned the Athletics Age Champion on multiple occasions, also receiving sporting high achiever and sportswoman of the year awards at her school. Completing her resume, she is also a very keen musician playing the Flute, Guitar, Piano and Base Guitar.
The SWSAS Wests Future Stars program will work with Catarina to provide valuable sport specific support and resources, providing opportunities to further develop her skills as both an athlete and a future leader. She is very aspirational and very excited to be part of the SWSAS program, "I am extremely grateful for this opportunity and I cannot wait to challenge myself further and perform major PB's on the slopes under the guidance of the Academy, whilst providing a supportive sporting environment for other fellow competitors".
The SWSAS Wests Future Stars program provides support for local athletes competing at state levels of competition and above who are striving to be the very best at their sport. Be sure to keep up with all of the SWSAS Wests Future Stars by following us on social media (Facebook - Instagram) and checking out our website https://www.swsas.org.au/ For information about the SWSAS Wests Future Stars Scholarship Program Contact Academy Sports Program Manager, James Watson on 0246 277 622 or james@swsas.org.au