Sky's the limit for Determined Vella
Written on the 24 August 2016 by SWSAS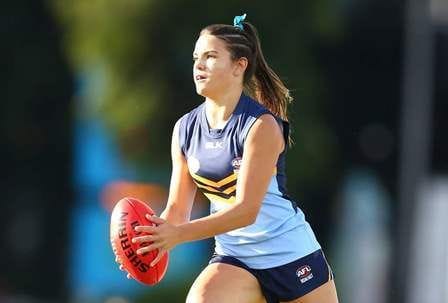 Talented teenager Margot Vella is well on her way to creating her own history as a top female AFL athlete. The doors of opportunity are opening up for Margot to reach for the stars and pave a career in what is a highly male dominated sport.
Margot has a strong desire to continue to improve her skills which this year saw her participate in the South West Sydney Academy of Sports AFL Development Program.
Margot's best on ground performances for the NSW/ACT U18 team has shown that the young girl from Leppington isn't just knocking on those doors, but she's running right through them.
Don't let the pony-tail fool you, Margot is as tough as nails and is prepared to put her body on the line to get her team the win.
Margot has talent beyond her years. At 17-years of age, Margot was selected to play in the U18 NSW/ACT team that competed at the Youth Girls National Championships held in Melbourne. Margot's age was no barrier; the courageous athlete took her game to new heights, dominating the opposition.
Her leadership skills shone through and she was awarded best on field in two of the three games. Her tackling and aggression helped guide the Youth Girls team through the group stages undefeated. The Youth Girls then went onto defeat South Australia in the final.
Margot's athletic ability knows no bounds. While AFL is her main focus, Margot doesn't mind trading in the AFL jersey and competing for her country in the sport of Oztag.
In April Margot added to her already outstanding sporting resume by being selected to take part in the Women's U20 Australian Oztag team that competed in a five match Trans-Tasman Test Series in Auckland, she also took part in the Women's U17 NSW three-match State of Origin series.
Margot did more than just make up the numbers again showing her athleticism branches out to other codes. The skilful teenager was named 'most valuable player' for the State of Origin series, and was one of six girls selected to take part in a full field 'Supertag' match during the Test Series in Auckland.
The AFL has seen record growth, with the number of women and girls playing Aussie Rules doubling over the past five years. The AFL has made history by unveiling 8 female AFL teams that will compete next season.
Margot's potential and determination could potentially see her participating in the Women's League in future years and also becoming a role model for young girls in Sydney's south west to aspire to.