Softball World Cup selection success
Written on the 16 March 2020 by The District Reporter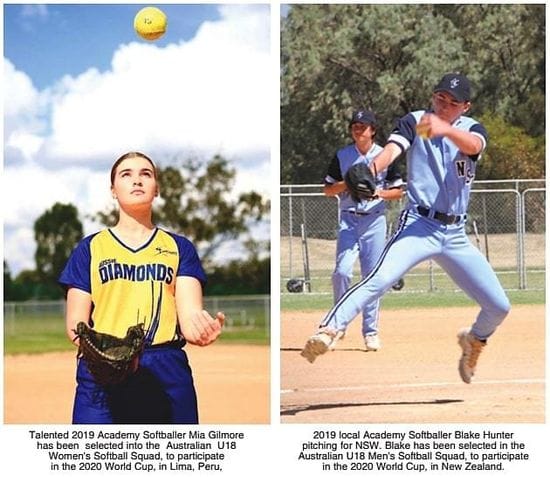 The Macarthur region's junior softballer's have a long history of Australian selection success; and the national honour roll has grown again with Mia Gilmore and Blake Hunter joining the list, after being selected for their respective U18 World Cup squads.
The U18 Women's Softball Squad will participate in the 2020 World Cup, in Lima, Peru, from August 23-30. With the Australian Men's Softball, travelling to Palmerston North, New Zealand, for World Cup competition, February 22 to March 1, 2020.
Congratulations also go to Jack Davies and Madi Baker who have been selected as reserves, for their individual World Cups.
As an U18 Australian reserve Madi Baker has been invited to participate in the Canada Cup, to be held in Vancouver on July 4-14, as part of the Aussie Diamonds pathway program.
The standard of local talent is highly evident when you look at these and the large number of athletes that have gained representative honours via the South West Sydney Academy of Sport softball program.
This is the second consecutive year that Gilmore and Hunter have been selected for Australia. With Gilmore touring the USA and Hunter New Zealand, as part of their respective U17 squads.
Mia Gilmore and Blake Hunter's 3 years (2017- 2019) as academy scholarship holders, was highlighted by their high work ethic and above average game day contributions.
Academy CEO Gerry Knights proudly said that both athletes were also highly supportive of the development of their fellow academy squad members and often stood down from their respective pitching duties, in support of the development of other pitchers in their squads.
"The academy softball program is an amazing part of the NSW and Australian Softball pathway," Knights said.
"And, these fine young athletes deserve everything that sport can offer them."
For information, or access to a nomination form visit www.swsas.org.au or call the academy on 4627 7622.
Author:
The District Reporter