Softball Young Guns Firing
Written on the 19 July 2018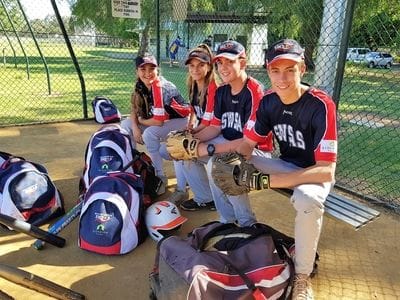 Left to Right: Jaimie Zaballero, Gia-Luise Palma, Blake Becquet and Angus Rochester are primed and ready for the challenge of the Australian Invitational Youth Games!
The South West Sydney Academy of Sport (SWSAS) has an enviable reputation when it comes to providing an opportunity for our region's best young Softballers.
On the 21st of July, both squads (boys and girls) attended the Australian Invitational Youth Games in Newcastle. The event pulls together all the best players for two full days of competition with each squad playing as many as seven games.

SWSAS has enjoyed a remarkable program. Eight of the selected squad have gone on to represent NSW at national titles with three athletes since gaining selection into the national program.
The girl's squad travelled to Victoria where they were victorious at the prestigious Waverly Easter Tournament and both squads were crowned champions at the Academy Games held in April.
The program Head Coach, Peter Doherty, contained his excitement with the approach of the big tournament.

"We are a development program and this year we have some very young players in the squad. Watching older representative players engage in the development process has been very rewarding. We were very strong at Academy Games; it was unfortunate that the weather intervened. We will obviously be hoping for our full complement of games this time around.
The squad enjoys winning but it's not our focus. Match play is an opportunity for players to execute learned skills under pressure. I am confident we will see some fine competition".
For more information about Academy Softball go to www.swsas.org.au or call 4627 7622