Son following in father's legendary hockey masters footsteps
Written on the 12 January 2018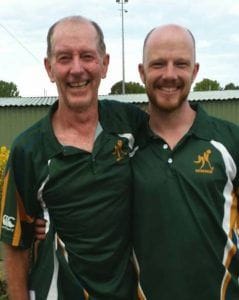 Major hockey tournaments in Glasgow, Hobart and Hiroshima in the space of nine weeks would be an enormous call for any athlete.
But South West Sydney Academy of Sport executive director Gerry "Legend'' Knights continually takes on challenges like this in his stride, despite being more than 60 years of age.
His son, Trent, has also just started playing in the senior ranks.
Gerry Knights commenced his most recent epic world tour more than two months ago by representing Australia as vice-captain in the World Masters trophy tournament in Glasgow, Scotland.
Australia and Knights had to be content with a silver medal after being defeated 1-0 by England in the final.
Then it was back to the other side of the planet Down Under to represent NSW, again as vice-captain, at the Australian Masters Hockey Championships in Hobart, where NSW narrowly missed out on a semi-final berth.
Just 11 days later Knights was taking the international playing field in the Asian Cup trophy tournament in Hiroshima, Japan.
Knights said there were massive team changes between Glasgow and Hiroshima, but that is this nature of international Masters Hockey.
"It is an extremely competitive major portion of men's hockey these days, with our local Macarthur association having over 140 current players alone,'' he says.
Australia lost the bronze medal game in Japan in a shoot-out in extra time.
With a cheeky smile, Knights said, "I scored mine and that is all you can do, overall the team played very well and that is all you can ask''.
Knights played more than 80 Masters games this year and definitely shows no signs of slowing down.
He has already been selected to play in Barcelona, Spain next year and will continue to train right through till then.
But despite his own incredible hockey achievements, Knights says the "definite highlight of the year for me was watching my son Trent represent NSW Masters for the first time as its goalkeeper for the over 35 age group.
"I was also proud to see Trent selected as the Australian shadow goalkeeper for its 2018 tour.''
Maybe there's another Knights "legend'' on the way.