South West Sydney Academy of Sport Celebrates in Style
Written on the 3 August 2017 by SWSAS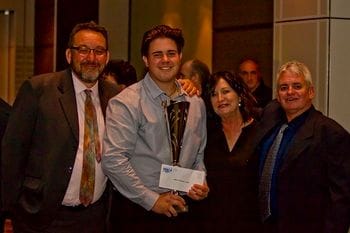 The South West Sydney Academy of Sport (SWSAS) came together as one to celebrate its 20th Anniversary. An awards night presentation acknowledging the year's best achievements.
The much anticipated event took place at The Campbelltown Catholic Club's, The Cube. The venue catered for more than 600 including our regions finest young sports people, their family and friends as well as a large number of Academy friends. Academy volunteers, sponsors, representatives from all levels of Government and guests representing many of the state's peak sporting bodies.
Australian under 19's representative. Softball pitcher, Harrison Pudner took out the night's top award. Being named, The Chairpersons 'Athlete of the Year'.
Harrison is a final year graduate who has been in Academy for three years. His development has been remarkable, his potential is enormous. A credit to his consistent hard work.
The evening was hosted by former Olympian Sarah Ryan. Sarah worked the microphone in conjunction with Academy CEO, Mr Gerry Knights.
Many Academy athletes also took the opportunity to develop their media skills, presenting in fine style to the packed house. Mr Knights commended all those who took on a speaking role. "They were outstanding! It's hard to believe, some of these athletes are as young as fourteen. It's a big challenge but they all prepared well and delivered flawlessly".
Seventeen different sports programs provided sixteen athletes that were honoured with coaches' awards whilst eleven were nominated for the highly Prestigious Chairpersons award.
Over the past twenty years SWSAS has contributed over $8 million to the development of over 3000 athletes. "Working with development athletes and sub-elite pathway athletes, we have had some remarkable success over a prolonged period of time! I couldn't be prouder. Reflecting on the achievements, it's very humbling", Mr Knights said.
SWSAS Chairperson Peter Campbell was delighted with the event. "Our awards celebrate commitment, consistency and development. It's not always the most talented athlete that receives the award.
The standard continues to be very high and this year was no exception," Mr Campbell said.
SWSAS also presented Softball Trio - Fiona Ioannou, Peter Doherty and Tony Jackson with outstanding service awards.
Between the three of them, they have committed 30yrs service to the development of our young Softballer's. "A big night for Academy Softball, well deserved" said Mr Knights.