Sporting Heroes to attend Academy Graduation Dinner
Written on the 7 July 2015 by SWSAS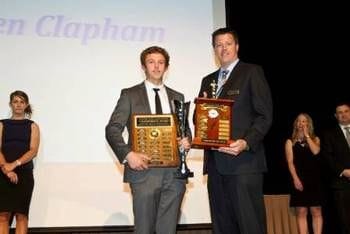 THE South West Sydney Academy of Sport will be holding its annual 'Graduation and Sports Awards' Dinner in recognition of the achievements of current Academy athletes and its high achieving past sports stars.
The Academy's executive director Gerry Knights is certain that this year's event will again be a 620 guest sell-out.
He said that he was pleased that the Academy could once again hold the event in conjunction with its 'naming rights' sponsor the Campbelltown Catholic Club, at 'The CUBE' entertainment and convention centre. The Academy has already received over 500 guest acceptances'.
The evening is a chance for athletes and guests to 'dress up - step out' and enjoys a night full of musical entertainment and performances courtesy of Campbelltown Performing Arts High School students.
A wide range of high profile current international and national athletes will also keep guests well and truly entertained by providing the audience a glimpse of what it takes to make it to the top.
One of this years featured sports is Netball recognising the upcoming Netball World Cup will be played in Sydney 7-16 August.
Sydney Swifts players Susan Pettitt and Abbey McCulloch will provide their personal thought's on the event and how tough it is to get into the Australian 'Diamonds' netball team. Pettitt just missed out on World Cup selection, but has now been selected in the 'Diamonds' National team for 2015/2016.
Amid all the sports stars on show, Netball NSW CEO Carolyn Campbell will provide an insight on what it is like to hold the Netball World Cup in Sydney and NSW Rugby League CEO, David Trodden will provide his thoughts on the Rugby League 'State of Origin' series.
Knights said the Academy has a large number of high achieving athletes its self, who have been selected in 2015 NSW and Australian aged and open age teams, or have achieved outstanding personal success.
But, this is only part of being a holistic athlete as far as the Academy award selection panel is concerned. It is looking for those special athletes that possess the defining personal qualities of a positive attitude, total commitment to task, leadership, respect and responsibility, and a strong commitment to community.
These are the virtues that set special athletes above the rest; and the calibre of Academy athlete achievements during the past 12 months, will also ensure whoever wins the 'athlete of the year' award; will be a very special athlete, said Knights.
Tickets are available to athletes, parents and the general community for this unique event, by contacting the Academy on 4627 7622 or sarah@swsas.org.au with ticket sales closing soon, or when sold out.