SWSAS beats Western Australia's best in 'Coast to Coast' Rugby League Challenge
Written on the 5 February 2015 by SWSAS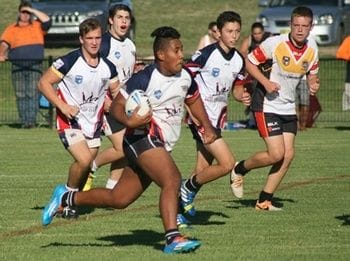 Camden's Kirkham Park was presented in absolute 'picture perfect' condition for this year's 'Coast to Coast' Rugby League Challenge, between the touring Western Australia Rugby League Academy and our very own South West Sydney Academy of Sport's U16 Harold Mathews Cup squad.
Our inter-state visitors were highly delighted with the recent work undertaken by the Camden Rams senior and junior clubs, and Council; saying the ground was equal to their previous game against Manly Warringah, at Brookevale Oval.
But the highlight of the day was the game itself. After training 3 nights per week since November, this was the time for all SWSAS squad players to put their best foot forward, recognising the squads final player-cut was to be taken in coming weeks.
The game started at a blistering pace with SWSAS covering the length of the field in 5 tackles, to score an excellent team try in the corner. But this raid was followed by a long period of solid defence by both teams, before the heat of the day open-up play; with both sets of backs showing excellent ball handling skills and running in two try's apiece, with SWSAS going into the break leading 14 - 10.
Following its coaches instructions of keeping it tight in the middle of the field, SWSAS came out all 'gun's blazing' after the break scoring 2 more converted tries. As the game progressed, both teams played excellent close quarter football with SWSAS wanting to play the more expansive game, when the opportunity arose.
With a final score of 26 to 10 both camps were extremely happy with their charges, with SWSAS coach Wayne Azzopardi saying, he was extremely pleased to see how SWSAS maintained its intensity late in the game, in what was the Academy's first formal hit-out of the season.
Academy rugby league coordinator Elizabeth Callaghan said, the Academy has 7 boys that are a year young for Harold Matthews Cup competition, but the squad has really jelled in the short time it has been together and although young, will surprise a number of the established NRL clubs.
Callaghan said, Kirkham Park was an absolute picture on the day and the host club the Camden Rams was as in the past, amazing in its support of the game, the Academy and our high profile inter-state visitors.
The Academy's next Harold Matthews Cup squad trial was held against the Western Sydney Academy on 7 February at St Mary's Sports Stadium, in preparation for their round one clash against the Manly Warringah Sea Eagles at Brookevale on 14 February.