SWSAS closely defeated by WA in 'Coast to Coast Rugby League Challenge'
Written on the 31 January 2014 by SWSAS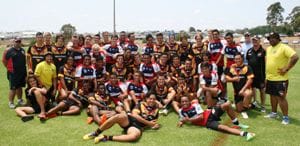 Our local South West Sydney Academy of Sport took on the might of the Western Australia Rugby League Academy in the 'Coast to Coast Academy Challenge' at Kirkham Park, Camden on Sunday.
SWSAS was represented by its U16 Harold Mathews Cup squad, in what was its first game of the year and with WA being undefeated on tour the stage was set for a tough battle for SWSAS.
WA showed its superior teamwork and scored an excellent converted try and followed up with a second converted try to lead 12 - 0 early. As the game progressed, both teams played excellent close quarter football with WA wanting to play the more expansive game, when the opportunity arose.
After an excellent SWSAS team try, WA went into the break leading 12 - 4.
Following its coaches instructions, of keeping it tight in its first half of football for the year, SWSAS came out all 'gun's blazing' after the break scoring 3 of the last 4 try's, with spectators saying, SWSAS was like a different team in the second half.
With a final score of 26 to 20 both camps were extremely happy with their charges, with SWSAS coach John McPherson saying, he was extremely pleased to see how SWSAS came home all over the top of WA in its first hit-out, and SWSAS most certainly would have won, if the game went a bit longer.
Academy executive director Gerry Knights said, the Academy has 7 boys that are a year young for Harold Matthews Cup competition, but the squad has really jelled in the short time it has been together and although young, has some size in its pack.
Knights said, Kirkham Park was an absolute picture on the day and the host club the Camden Rams was amazing in its support of the game and I am certain Wests Tigers will be impressed when it plays the Penrith Panthers there on 8th February.
The Academy's next hit-out will be a three-way trial against Cronulla and Canberra, at Shark Park.
For more information about the Academy visit our website, contact administration or call 4627 7622.