SWSAS Golf Day a fantastic success
Written on the 18 May 2015 by SWSAS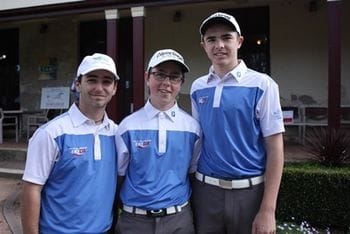 Thank you to all who attended Friday's SWSAS Golf Day at the Antill Park Country Golf Club.
The weather was perfect for golf and the course looked a picture.
Our host for the day the Antill Park Country Golf Club was amazing in its support. We are proud to say the Golf Day raised $7,500 for the SWSAS Golf Program, due to the generosity of many, especially the Club on the provision of the venue.
A very special 'thank you' goes to the NSW Harness Racing Club for its 'naming rights' sponsorship and the 'Property Club for its event sponsorship support.
Our warm thanks' also goes to the Wests Tigers, GWS Giants and Western Sydney Wanderers for the provision of signed football jumpers for the 'silent action'. Plus our friends from Quest Apartments', the Jack Newton Junior Golf Foundation, HSC Recruitment C.City Lawyers, the Antill Park Golf Store and Greg Warren MP for supporting the day's raffle.
Congratulations to all winners' and thank you to each and every participant and everyone behind the scene for making the day such an enjoyable success.
Reminder the Wollondilly Shire Council - Mayoral Golf Day will be held at the Antill Park Country Golf Club on 26 June 2015, with all proceeds going to SWSAS, please contact Council 4677 1100 or the Academy 4627 7622, to book.